By now you've probably trimmed a tree. Ready to trim some ad videos?
According to the 2022 Marketing Report and 2023 Outlook by Mediaocean, an advertising company, 63% of advertisers claim TikTok and short form videos will be the biggest ad trend.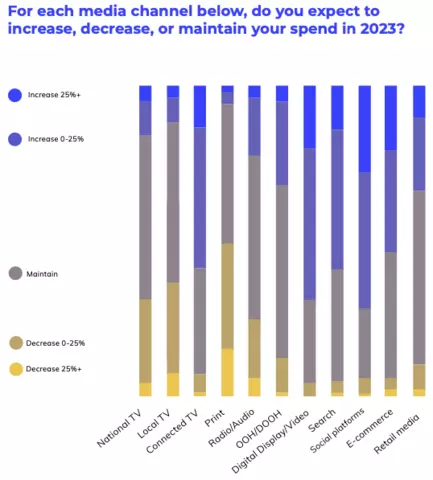 Rounding up predictions: Most respondents think CTV and streaming (54%), along with e-commerce (47%), are also trends to keep an eye on.
As for opportunities, 49% think better creative and production tools will help improve social media execution—in other words, make it easier to create short videos for platforms.
But there are also concerns… The lack of preparedness for a cookieless future, reduced measurement, and loss of third-party data are advertisers' top three greatest fears.
Moreover, talent retention and access to expertise are also a big problem for many (29%).
Why we care: The report reinforces belief that this year just set up the stage for short form videos to completely take over and dominate the ad space in 2023.
What you can do is make sure you have the right tools, content, and expertise you need to march into the short video era with confidence. It's not easy, but it is possible.