Google updates ads policy, continues challenging Amazon
Keywords?
More like locked words…
Because that's pretty much Google's new policy: The search giant says keywords won't trigger ads until they've been reviewed and approved.
… Which means users won't see your ads until Google gives the green light.
Better plan ahead: It can take up to one business day for Google to review ads, so plan accordingly.
Why the extra set of eyes: The new update is one of Google's many attempts to improve the quality of ads served and the overall user experience.
According to reports, Google's new VP of Search is committed to taking on Amazon—and a big part of that is turning "searchers into buyers."
… And it's working: Research by Morgan Stanley in 2021 found that consumers used Google to search for products more often than Amazon or eBay.
Why we care: Google updates are increasingly catering to everyday shoppers, so staying on top of them could significantly improve your ads and search performance.
And if you combine Google Ads with the new merchant-friendly features—like free product listings—you could position your business in front of a huge number of consumers.
And while we're "staying on top" of things…
Is this app the next TikTok?
The last thing many marketers want is another shiny app to chase.
But BeReal's meteoric rise is so significant it's worth paying attention to.
How it works: BeReal is a photo-sharing app that randomly notifies users to capture an unedited photo of the "moment," no matter where they are or what they're doing.
After sharing a photo, users can see what their friends shared and discover new users in a separate feed.
Numbers worth a thousand words: BeReal has 10.7M global installs to date. It acquired 3.6 million new users in April alone—a 157% increase from March.
This week, it was among the top 20 free apps on iOS, and a recent funding round quadrupled their valuation to over $600 million.
Why we care: While the platform is currently ad-free, investment money is pouring in, and it wouldn't surprise us if there are monetization plans cooking behind the scenes.
In the meantime, it's worth following the app's growth.
If nothing else, it seems like a potential playground for influencer campaigns.
These 3 advanced email flows could boost your store conversions
Abandoned cart. Welcome sequence. Discount flows.
Most stores run basic email flows like these.
But if you want to pull even more sales from your list, Connor Dimond recommends setting up three advanced flows.
3 Email Automations You May Be Missing That Perform Really Well

🧵 Thread //

— Connor Dimond | 📧 (@DimondEmail) May 23, 2022
Let's check 'em out:
Pre-VIP flow: Maybe you're already running an email flow to reward customers with VIP status… to recognize customers who purchased four times, for example.
If you want to take your reward program to the next level, set up a pre-VIP flow to nudge customers who are "on the fence."
For example, you might send an email to customers who bought three times and tell them they're just one purchase away from enjoying the benefits of your VIP program.
Expected next order flow: Based on purchase data, you can define an expected date for the next purchase. For example, "30 days after the first order."
Use this data to create a flow that prompts customers to buy.
Site abandonment: Engage with customers that are active on your website, and send one email 12 hours after they abandon your site. Send the second one 22 hours later.
Here are the filters that Connor suggests for this setup:
Checkout started 0 times since starting this flow.
Placed order 0 times since starting this flow.
Viewed product zero times since starting this flow.
Added to cart 0 times since starting this flow.
Has not been in this flow in the last 30 days. Or, if you prefer, you can set it to 45 days, or only send it once.
Email flows are a great way to win new sales and engage your subscribers. Connor's list could help you achieve both.
How to reduce friction with your landing page copy
A couple months back, we analyzed 3,000+ landing pages to answer the following question:
"What do high-converting pages have in common?"
Today, we're looking at a particular insight from that Deep Dive: Reducing friction with your landing page copy.
Here's what top landing pages do to reduce friction—and increase conversions—with their copy:
Tell people they can achieve their goal in less time than they think. If your product is surprisingly fast at getting results, make it obvious. In your header copy, include the phrase "in X days" or "in X minutes per day". If it's less than what your typical reader expects, they'll be intrigued.
Tell people exactly how and where they'll see results. If you send your product via email, for example, including the phrase "in your inbox" helps eliminate questions that readers may have.
Don't ask for personal information right away. Often, brands find that conversion rate increases when they don't ask for personal information in the first step of their process. The further along someone gets in your pipeline, the more likely they are to enter their email when you ask for it.
There are hundreds more insights in our full Deep Dive on landing page copywriting. If you want to get a better look, check out the preview here.
ROUNDING UP THE STACK
E-COMMERCE: Selling big ticket products? Buy now, pay later (BNPL) is getting more popular among consumers despite rising inflation… especially when they're buying higher priced items.
SEO: Google's May 2022 Core Update is already shaking up the rankings. Some users are seeing spikes in traffic, while others are complaining about drops and lost snippets. This article walks you through the results so far.
GOOGLE: Need an image of a Persian cat strumming a guitar… Or something weirder? No problem. Text-to-image artificial intelligence is getting more powerful, and Google's Imagen AI tool may be the next big thing. Seriously, some of the results are impressive.
Savings are "saving" the economy… for now
If you were saving for a rainy day, you might want to get yourself an umbrella.
While US consumer spending rose by almost 1% last month, the savings rate fell to 4.4%—the lowest since 2008.
Why buyers are breaking into the piggy bank: As prices increase, consumers are finding it harder to keep up with the spend.
The trend suggests that many are reaching into savings to ease inflation pains.
Economic experts aren't worried… yet. Apparently consumers have over $2.2 trillion in excess savings that can keep the current spending rate going.
Experts seem confident that incomes will balance out the rising costs by the end of the year.
Why we care: We all hope the experts are correct. But while spending is rising, it's safe to assume that shoppers won't dip into savings for non-essential items.
… And some industries could feel the pinch in coming months.
So you should probably start managing expectations and prepare for the worst case scenario.
AdWords API sunsets, reviews appear on Google Maps, and more
More Google updates? Shocking.
Let's get the technical stuff out of the way:
AdWords API is sinking out of sight: If you still haven't upgraded to Google Ads API, we suggest you do it now to avoid application errors.
Display and Video 360 API updates: Google added new features to the platform's programmatic interface that should make things like filtering creative and showing real-time product inventory a little easier.
And now, let's talk about In-map reviews: Google made user justifications, or snippets of top customer reviews, visible on their Maps mobile app.
This new update shows relevant customer reviews right next to business location icons, which probably means Google will emphasize review content quality and not just ratings.
Hopefully Google doesn't pick "unjustified" reviews of your business to display…
How a drinkware startup successfully challenged competitors making millions in revenue
How do you compete against brands worth millions of dollars… with just $200,000?
Mike Beckham did it when he co-founded a drinkware company called Simple Modern, and now his company makes $100M annually.
So how did Simple Modern successfully contend with Yeti and Hydroflask?
The answer is… They didn't really compete.
Mike describes their approach in an excellent Twitter thread.
The companies that were leading the insulated stainless steel drinkware market had initially found success in specialty retail (places like REI). Their success in these venues had shaped their retail pricing and margin structure.

They had higher retail prices and few variations.

— Mike Beckham (@mikebeckhamsm) May 26, 2022
Here are some takeaways:
Don't get stuck trying to invent a new product. Most successful businesses sell established products, but in a new way.
Netflix, for example, wasn't doing anything new by selling video content.
Instead, their innovative approach was to stream it before other companies did.
So, how do you come up with a winning product? Here's the four-step process that Mike suggests:
Find a product that has robust demand.
Examine the strategies and strengths of existing companies.
Find "white space," or the communication and distribution channels they're not using.
Ask: Where do your skills and abilities line up with white space?
Here's how Mike applied that to Simple Modern:
He realized that their main competitors found success using specialty retail like REI.
That meant companies like Hydroflask were built for physical retail, not e-commerce. They had high prices, few variations, and no Amazon presence.
So Simple Modern attacked the e-commerce space and designed products that came in dozens of variations.
A simple strategy, to be sure. But it worked.
Low costs per click, but no conversions? Try this quick fix
Low cost per click (CPC) is a valuable metric… but probably not in the way you'd imagine.
Here's what we mean.
We've all been there: You launch a new ad, it's performing at dramatically lower CPCs than all the others… but it's not seeing much conversion.
People are clicking on the ad, but they're not buying anything on your site.
This happens when your ad doesn't qualify users before they click. It's a common mistake. Even well-funded startups and established brands do it.
The best ads pre-qualify users. Here are a few examples of how you can do this:
If you're linking people straight to a product page, don't use "Learn More" as your call-to-action (CTA) text. Use "Buy Now" or something similar. Qualify intent before the click.
If you want people to sign up for a free trial, write copy like "Try it for free for 7 days" in your ad. Let people know what they're getting into.
If you want people to book a demo, write something like "Book a product demo in minutes" in your ad.
The Crew's insight: Set expectations before potential customers ever click on your ads. If they read "Buy Now" and still click, they know what they're getting into—and they're more likely to buy.
ROUNDING UP THE STACK
STREAMING: Cutting the cord to cut costs? BBC says they're moving television content to their streaming platform. With more TV going online, our guess is streaming advertising is gonna get more and more popular…
ADVERTISING: Are deep fakes the future of influencer marketing? Soon, businesses may have their own ambassadors created by artificial intelligence (AI). Talk about brand personification…
LINKEDIN: Having trouble getting engagement? LinkedIn plans to publish a series of blogs where they'll provide insights into how their feed algorithm works—and bust myths in the process. Could be helpful.
YOUTUBE: Finally! YouTube Analytics will provide separate data for different video types instead of combining them into one metric. Yes, this means you can actually see how your Shorts or Live videos are performing.
META: Facebook Data Policy is now Meta Privacy Policy. The new Terms of Service says "it won't collect, use, or share your data in new ways." Please remind us… What were the "old ways," again?
Live Shopping on the Rise
And major companies like Meta are taking notice. Recently, we've seen a huge amount of companies growing and emerging quickly in this sector, with companies like Whatnot and Popshop raising more than hundreds of millions of capital in recent years. This is a huge opportunity for brands and marketers who have yet to focus their efforts here. It's a trend still early enough to jump on, and it sure looks like all roads are leading us to an online shopping experience happening real-time.
Google's Summary of their Last Virtual Unconference Provides Interesting Insight
These insights shared what type of SEO is working and what isn't. One thing we found out was that reviews from blogs and community sites show to be extremely effective for driving business and getting new customers. Organic and paid growth are more productive when there is a mutual collaboration. Images are still the number one factor in grabbing consumer's attentions and one of the best ways to improve website speed. Marketers, pay attention here. As e-commerce SEO starts to get even more complicated and competitive, you've got to stay on top of what's going on so you know where to put your marketing efforts at.
Snapchat Declines as More Ad Companies Reported to Follow
If you've been following along lately, Snapchat along with many others, had a great Q1. Well, Q2 ain't looking so great. Snapchat reports a decrease in revenue due to rising costs, supply chain issues, and the ongoing war in Ukraine. This is something to take note of, folks. If Snapchat is starting to go down, this could be a sign of a larger trend to come. Analysts are predicting negative "read-through" for other advertisers, too. Don't worry, I've got helpful marketing strategies to come in the following weeks, so keep on subscribing.
New integrations with tools you probably already use
Guess who TikTok's favorite dance partners are.
Yep, content and e-commerce.
Waltzing with the Woo: TikTok just announced a partnership with WooCommerce, which means users can sync their product catalog with TikTok profiles for more advanced product display features.
Cutting a rug with content: The video platform also revealed a partnership with eight content marketing industry leaders, including Hootsuite, Sproutsocial, and Sprinklr.
According to TikTok, these integrations will make it easier for brands to "publish, manage, and track their content" on the platform using the tools they already use.
Why we care: TikTok's moves are simplifying e-commerce for marketers and their customers, while helping marketers connect more easily with customers… And while using their favorite tools.
Sounds good to us.
And speaking of favorite tools…
These API updates may change your favorite apps…
Usually, whenever there's an API announcement, changes and depreciations follow.
Facebook just released updates to two application programming interfaces (API): Facebook Graph API and Marketing API.
Here's what's going in:
Optimization support for Marketing API lets advertisers optimize for events that happen deeper in the sales funnel than the current options allow. At the moment, this update is available only for a small set of advertisers, and will be rolled out broadly later.
Connected Apps feature is an addition to Business Manager that will display all the integrations you use to manage your business on Meta. But they will be rolled out broadly at the end of the year.
Simplified categories for WhatsApp message template creation are also available for developers. That makes sense, given the new marketing-focused use cases on the WhatsApp platform.
What's coming out:
Connections Targeting: Soon developers won't be able to leverage Connections Targeting—it's going away June 15. Meta recommends converting those audiences into the equivalent Engagement Custom Audience or Lookalike Audience.
The "User by Segment" won't be supported as an event type after July 3, and any existing campaigns using this event will pause since those audiences won't exist anymore.
Why we care: It's still early, but you may start noticing changes to your Facebook tools as developers begin working with the updated API.
Try this 0 to $18M Facebook Ads testing strategy
Taylor Lagace scaled Animalhouse Fitness from 0 to $14,525,749 in 18 months.
He attributes their success to the Facebook Ads strategy they used to run 10k pieces of influencer content while staying profitable.
Our strategy scaled Animalhouse Fitness from 0 to $14,525,749 with Facebook Ads in 18 months.

This put them in the top 1% FASTEST growing stores on Shopify.

Here's how to run ads without ever losing money — with ANY creative:

— Taylor Lagace (@TaylorLagace) May 20, 2022
This is achieved by leveraging Cost Cap Bid, and it frees you up to test unlimited pieces of creative without wasting budget. Instead of making assumptions about what ad can work, you let the data talk.
How it works: With Cost Cap Bid you're telling Facebook the maximum cost you can afford for a sale. That way the platform optimizes spending based on your target cost per acquisition (CPA), which prevents you from spending more than the target CPA on low-performing creatives.
Here's how to structure and run your campaigns:
Collect all the creative you've got. Let's say you have 100 pieces of influencer content. No matter what they look like or what you think about them, test all of them. No assumptions.
Then set your cost cap bid 30% below your target CPA.
Now add Dynamic Creative Testing campaigns (DCTs) to the equation. DCT campaigns also help you stop wasting money on ad spend.
Here's how to structure those campaigns:
Put every four creatives into each DCT campaign. So 100 creatives equals 25 DCTs.
Consolidate the 4 creatives into one ad set and one ad.
Since every DCT campaign has a cost cap bid set below your target CPA, you can't lose money. Plus, you let Facebook find the winning creatives so you can scale them.
And now you don't have to worry about burning the budget on low-performing creatives. And in the thread shared by Taylor, you'll find the steps necessary to scale winning ads.
How to write good subject lines for cold email outreach
Getting results by sending cold emails to as many folks as possible is never easy.
Writing good subject lines can help.
But you have to be careful not to write clickbait subject lines, or overly promotional subject lines.
Like these, for example:
Clickbait subject line: Urgent question
Promotional subject line: Need help falling asleep? Our mattresses are 20% off this week.
You can definitely do better than this.
Maybe clickbait subject lines may get you high open rates, but they do a bad job of qualifying the reader.
The wrong people might be opening your emails. Plus, these sorts of subject lines are irritating for most people.
And while promotional subject lines may qualify intent a little better, you might lose some clicks because people know they're being sold to.
So instead of writing clickbait, you can write for intrigue. Here are a few examples:
Thoughts on [Company Name]?
[Company Name] question
How are you managing [thing your product solves]?
Dealing with [problem your product solves]?
Question about your [problem your product solves]
One Final tip: Remember to write an intriguing subject that relates to the content of your email.
That way you'll get the high opens, plus the results you're looking for.
Best of luck out there!
Live commerce platforms are gaining popularity
You've heard about livestream shopping, right?
Wheels are turning: buywith, a popular platform where brands can host live interactive shopping events, just secured a seed round of $9.5 million.
And Firework earned $150 million in funding just days before.
… And it's only getting started: Live commerce companies are emerging and growing quickly, with companies like Whatnot and Popshop raising more than hundreds of millions of capital in recent years.
All together, they're expected to reach $35 billion in revenue by 2024. That's still 12 times less than China, where live commerce has been popular since 2016 and it's expected to hit $423 billion in 2022.
Why we care: Many brands and marketers have yet to harness the potential of live shopping, and the opportunity is huge.
Meta has already launched Live Shopping on Facebook, TikTok is testing live commerce… It all points to a future where online shopping happens real-time.
So think about jumping on the trend while it's still early.
Say goodbye to expanded text ads, and other updates
Would it surprise you to hear there are more updates?
Yeah, we didn't think so.
First, let's talk about the things you can't do anymore:
No more expanded text ads (ETA): Starting June 30, you won't be able to create or edit ETAs. However, existing ones will continue running, and you'll be able to pause, resume, or remove them.
New forbidden products: Advertising skin lightening products that promote one skin tone over another are now prohibited.
Place your bets, Oregon: Google will allow advertisers in Oregon to run sports betting ads starting June 15—but only from certified, state-licensed entities.
Ew, bugs: Google reported a technical issue that caused the costs-per-click (CPC) of non-US campaigns to skyrocket. So if you've seen some inflated CPCs, you weren't imagining things. The problem's been resolved since.
Why we care: Numerous as they are, it's important to keep track of Google's updates and changes. They can make a big difference in your strategic planning.
How to create "link bait" content for higher page rankings
Yes, pages need backlinks to rank. But not all pages on your website deserve backlinks.
That's why Si Quan Ong suggests creating "link bait."
Link bait refers to pages that are designed to become backlink magnets. It's the kind of content bloggers and journalists find so valuable that they link to it.
Not only do such backlinks result in more traffic—you can distribute the authority of these pages to other web pages on your website with internal linking.
Si's blog post shares some best practices for creating link bait:
Create content that users can use right away, like tools, calculators, templates, checklists, and cheat sheets.
Make your link bait opinionated by giving readers something new to think about. Share a different perspective about a popular topic, a controversial idea, or discuss a subject from a unique angle.
Make your content visually appealing so it's easier for users to consume and enjoy your piece.
Add newsworthy elements to your content will help you get more links. Journalists and bloggers are constantly looking for news, so give them what they're looking for!
Tell a story. Sharing facts and stats through stories makes your content more appealing, easier to digest, and magnetic enough to attract backlinks. As author Yuval Noah Harari wrote, "Humans think in stories rather than in facts, numbers, or equations, and the simpler the story, the better."
Solid practices, right? Si also includes several examples of pages that gathered thousands of backlinks by following these guidelines, so check them out.
Should your brand start a newsletter?
It's normal to feel like you should start a newsletter for your brand.
But is it a good idea?
And if it is, what type of newsletter should you start?
That's what we're aiming to answer here.
OK, so should you start a newsletter? The answer is usually yes—as long as you have the right goals in mind. Most brands benefit, at least a little, from running a newsletter.
There are three different types of brand newsletters:
Newsletters that stand on their own. Some brand newsletters add so much value that they stand on their own instead of functioning as promotional tools. These are helpful if you want to grow the largest audience possible, and if the majority of that audience hasn't purchased from you before.
Newsletters that combine product info with interesting content. These newsletters focus on product, but contain enough unique content to keep a lukewarm audience engaged. That's helpful if you're sending emails to customers and people who have spent lots of time on your site.
Newsletters that are entirely product-focused. Some brands prefer to send a newsletter that revolves solely around their own product: News, discounts, sales, and more. These are helpful if you're sending emails primarily to current customers.
The bottom line: Newsletters are great.
If you evaluate what your goals are, where your audience is coming from, and how much time you have to spend on creating your newsletter, you'll be on your way to creating something memorable.
ROUNDING UP THE STACK
SEO: There's another core update rolling out, but don't be shaken by the news. At least, not until we have some data on how it will impact rankings.
INSTAGRAM: New font, who is this? Instagram announced "Instagram Sans," a typeface they developed with the help of language specialists. Will it help your posts and ads get more engagement? Guess we'll see.
Instagram has a new look. Our updated brand identity was designed to embrace evolution & help us create more inclusive experiences.

We partnered with language specialists around the world to design our new typeface, Instagram Sans. You can now use it in Reels & Stories. 🖊️ pic.twitter.com/xQJIrETKbQ

— Adam Mosseri (@mosseri) May 24, 2022
ANALYTICS: Google Analytics 4 (GA4) has started using Consent Mode for conversion modeling. In theory, this should help attribute conversions to the right channel in these days of stricter privacy regulations.
GA4 has started to use consent mode for conversion modeling.

Friendly PSA: Your conversions in GA4 are already being modeled, as that feature is enabled by default (and can't be disabled) https://t.co/xW39MZg5aO pic.twitter.com/rlGFKr65UU

— Charles Farina (@CharlesFarina) May 24, 2022
APPLE: Small developers are thriving on the App Store. To give you an idea… Developers with less than $1 million in annual revenue from the platform saw downloads increase by 118% since 2019. Not bad.
WORDPRESS: Good news if your website runs on WordPress. Arturo, the most recent update, brings improvements to Gutenberg, as well as new styles, templates, and design tools.
TWITTER: The FTC has fined Twitter a whooping $250 million because they were using 2-factor authentication data of users to improve the targeting of campaigns.
PRIVACY: Governments continue their row against big tech. Seems the UK took a cue from the US and decided to investigate Google's "strong position" in adtech mediation… In other words, the company's ad monopoly.
E-COMMERCE: If you're a female entrepreneur in the fashion industry and you've always dreamed of getting featured in Victoria's Secret, now's your chance. The brand is launching an online, women-led marketplace.
GOOGLE: The search giant is "simplifying" Display campaigns by merging them with… Smart Display campaigns. Will it affect your current Smart Display campaign performance? Google says no.
TOOLS: Oh, and if you use Docs, multiple text selection is now a thing, which means we can all kiss those repetitive formatting and editing tasks goodbye. Nice.
ADVERTISING: If numbers could talk, they'd say advertising is here to stay. The industry generated $7.1 trillion sales and supported 28.5 million jobs in 2021 in the US alone. Maybe mom doesn't understand what we do, but at least it's a stable career.
What's in a name?
Why does an established brand choose to change a well-known name? Are they suffering a brand identity crisis or is it a much-needed PR move? Google to Alphabet and Facebook to Meta are two high profile cases (okay, the parent companies changed names but was it an attempt to distance the business from the product?). We look at the reasons why brands might opt for a complete name change.
Advertising on streaming services
Streaming has meant viewers can decide when, where and how to watch video content. According to Amazon Ads research, this expectation has extended to brands with 95% of respondents wanting to decide when they interact with an advertisement. While 73% understand advertising is essential to services that produce content, these advertising experiences are more successful when they're relevant and related to the content being viewed.
AVOD revenue worldwide
Ad-supported video-on-demand (aka AVOD) revenue is on the rise. So if advertisers are going to spend this kind of money on streaming advertising like YouTube, they need to be sure it works. In 2027, it's estimated that revenue will be worth US$31.9 billion, up from US$12.9 billion in 2021. This level of growth will also be seen in China and India.
Breaking up Google advertising
A new US Senate antitrust bill could make Google (as well as Facebook and Amazon) break up parts of its ads business. Basically, the bill would ban companies thvat earn more than US$20 billion annually from digital advertising from participating in more than one part of the digital ad process. This could prove a problem for Google which acts as buyer and seller while running an ads exchange. All three companies make a lot more than US$20 billion a year from digital ads, so expect a fight over the bill which is, surprisingly, supported by both sides of the government.
Interesting Marketing Video and Report
Apple shows off its privacy functions with a (kind of terrifying) personal data auction. #Privacy #PrivacyOniPhone
Simple visual effects over a precocious child actor bring to life the world of eBay and online small businesses. #eBay #eBaytips #reselling
Petrol prices these days are equal to an expensive bottle of wine. #WeBuyCars
Big updates for YouTube Shorts ads, Performance Max updates, and more…
Google made several product announcements before their annual Google Marketing Live event.
And as expected, there was a plethora of updates.
We've picked the most relevant of the bunch:
YouTube Shorts ads: Your Video action campaigns and App campaigns will gradually start showing up on Shorts. Product feeds are next and will appear in the near future.
Performance Max is getting six updates, including in-store goals, optimization store recommendations, and more.
3D product models: Augmented reality advertising is coming to Google. Soon you'll be able to display 3D models of your products on the search engine results page.
Insights page: Updates to the Insights page should provide a better look into attribution and what drives conversions. You'll also get to see which audience lists are driving the best campaign performance.
Video ads available in Discover… A major addition that will allow you to show video ads within shoppers' personalized Discover section.
… And Google also announced a feature that is still in test mode: Checkout on Merchant.
If implemented, shoppers would be able to go directly to the checkout page from Google's product listing, skipping all the in-between pages.
The last feature could have some drawbacks… While it could help users make quicker purchasing decisions, it could also keep them from browsing your website, skipping your upsells and possibly decreasing average order value (AOV).
Why we care: Many of these updates will have a significant impact on Google Ads.
Knowing what's coming and how it affects your tools should help you use these updates to your advantage.
Snap's growth takes a halt, more ad companies may follow
How it started: Snapchat had a great Q1…
How it's going: …But it looks like Q2 won't follow the same trend.
Snap's CEO Evan Spiegel warned his staff that the company will miss this quarter's expected revenue and may also need to slow hiring.
That was fast: Spiegel said the "macro environment deteriorated faster than anticipated," citing rising costs, supply chain issues, and the ongoing war in Ukraine as factors in Snap's not-so-rosy earnings forecast.
… And there's something else: Apple's privacy changes. The company needed to adjust their measurement infrastructure to comply with Apple's privacy regulations—and it looks like the changes left some scars.
Why we care: Snap might be the beginning of a larger trend. Analysts are predicting negative "read-through" for other advertisers, too.
Don't worry, we've got helpful marketing strategies for you below, so keep reading.
Recession-proof marketing strategies
To be clear, we're not announcing the arrival of any recession.
But, with so many people worried about an economic crisis, we thought it might be good to discuss the marketing side of things.
And we found this discussion that Justin Goff started on the Nothing Held Back Facebook Group useful.
Here's the main takeaway from that discussion:
A recession can be a great opportunity for smart marketers who adapt fast.
Why? Because companies will cut their advertising budget, pushing down cost per mille (CPM) and, generally speaking, reducing competition.
Which means a recession is an opportunity to expand your market share… even as the market is contracting.
Also…
Business opportunity and make-money offers will explode: During a recession, people look for ways to make money, so if you operate in this niche, you'll enjoy a sales bump.
Compete on complexity: Everybody can create a funnel these days, and simplicity is easy to replicate.
That's why Alen Sultanic suggests adding complexity to your business, because doing so helps you build moats.
For example, competitors might copy your webinar, but they can't replicate what they can't see, or what requires a bigger investment, a bigger team, or the processes and know-how that only your team has.
Expect more resistance: The problem is not that there is less money in the market. The problem is that it moves slower and people become more sensitive to price… and more sophisticated about spending.
If you sell to businesses, it will be harder… especially for services with a long-term commitment: Entrepreneurs will become savvier about where they spend their money and will keep you more accountable for the results you bring.
An easy way to boost your landing page conversion rate in a couple of minutes
Want to boost conversions on one of your landing pages?
Many people will try to rewrite the entire page, which can take weeks… or try to rebuild the page, which can also take weeks… and then publish it before they get a chance to test the new page against the old.
But there's an easier way to test your messaging fast, and it's got everything to do with your above-the-fold (ATF) copy.
Above the Fold: The section of your website that a user sees before they scroll. The term comes from newspaper jargon, hence the "fold."
Your ATF copy is important. Not because it makes a sale, but because it gets people to read the stuff that will.
So before you spend weeks on major restructures, try the following steps:
Write three or four different ATF copy combinations. This is normally a title, a subheader, and a call-to-action (CTA). Test different angles, writing styles, and value props in each.
Set up multivariate testing with each combination you've written. If you've written four combinations, you'll now be sending 25% of users to each one.
Monitor results for a week, pick the winner, and build from there. This is easy if you've got analytics set up on your site.
Why this works: It's a low-friction way to test a lot of messaging in a short time period.
Once you find the angle that gets users interested, you can use that angle to guide how you revise the rest of your page.
It's an easy way to boost conversion. And it's waaaay more time-efficient, too.
ROUNDING UP THE STACK
SEO: Panic buying often means panic googling and panic clicking. Apparently taking advantage of these trends—and increasing your click-through rate—can boost your rankings. Nice.
WHATSAPP: Messaging apps ain't slowing down! WhatsApp reports 55% of monthly active installs become everyday users, which is 16% higher than this time last year. Telegram, Line, and Messenger have reported positive numbers as well.
META: Ad Library lets you go deeper into targeting insights for more sensitive topics. Namely, you will be able to see exactly how advertisers use social issues, elections, and politics in their campaigns… And how they spend their money.
SEO: Transparency is overrated… That is, if you want Google to index your videos. So make sure most of your thumbnail's pixels have a transparency value higher than 250.
PAYMENTS: Stripe is dipping into the app marketplace, which means we'll see familiar third-party business apps built into the platform's dashboard. Dropbox and DocuSign are already onboard.
Demands for fair pay prompt changes in brands and platform processes
The Story
The creator economy is making more strides toward equitable pay.
In The Hot Seat
A new app calling itself the "Glassdoor for influencers" is growing – with good reason. Clara, which is now 13,000 users strong, is striving to even the playing field between brands and creators. Inspired by "F*** You Pay Me (FYPM)," Clara is similar in concept, but lets brands access reviews to see how other companies compare. Alongside this, a
n increasing number of influencers are taking to their channels to speak out on which brands and social platforms are providing equitable opportunities for them and their peers. All of this emerging activity is an exciting side of social proof that is helping creators access the compensation they deserve.
Not Throwing Their Shot
As social platforms change their annual strategies to align with the creator economy's needs, many are also reevaluating their money-making methods for influencers. While Meta, Instagram, and TikTok are generally seen as the channels doing the most, as well as providing opportunities for underrepresented creators, influencers have not always sung their praises in reviews. Snapchat, which has traditionally lacked creator monetization opportunities, is making changes to attract more creators. The AR giant hasn't typically made creator nurturing a priority, but in their efforts to be more competitive, that may change dramatically in the near future.
STC POV
Working with creators and influencers for sponsored brand collaborations on social media is becoming increasingly normalized as a vital part of brands' marketing mixes. Fair compensation is always a hot topic of conversation within the creator world. It's also worth noting that there will never be a "one size fits all" approach when it comes to influencer marketing. A diverse strategy spanning verticals and influencers of all backgrounds, follower counts, and niches is going to get you a more well-rounded cohort – and figuring out compensation for each segment is going to be a collaborative effort, too.
Metaverse moves are made via creative gaming activations
The Story
The metaverse and the creator economy get acquainted.
Let's Play
Speaking of creator economy growth – the metaverse adds an extra layer to the possibilities revolving around opportunity, change, and increased pay. One brand delving into the metaverse is Fortnite Creative, which has become a hub for metaverse brand activations beyond gaming. Not only that, but its partnership between its Epic Games developer and WPP is digging deep into custom brand experiences that include training programs and education for brands.
Here's Jackie
Gaming is key in the metaverse because of its endless opportunities and creative freedom. The fast food chain Jack in the Box took to Twitch to prove just how true that sentiment is. In a partnership with GameSquare Esports, Jack in the Box's Twitch channel hosted a virtual drive-through where fans scanned a QR code to receive discounts on food and rewards. While the experience ended last week, the chances for similar brand activations and copycat initiatives make this experiment one to remember.
STC POV
The metaverse is creeping into real life, with brands we know getting in on the action. And this isn't going to stop with Jack in the Box or with just the gaming space. It's already filtering into our mainstream social media channels, like Instagram's NFT display options, which are still in development but looking forward to an initial release. It won't be long before metaverse activations are just as commonplace as brand activations on TikTok.
TikTok gives credit where credit is due
The Story
LA Pride's latest sponsor is teaching lessons on how modern innovation can partner with nostalgia.
I've Been To The Year 2000
Remember the days when you logged into Foursquare to share your location on your Facebook feed? Since we are throwing it back to the 2000s in pop culture and fashion, naturally TikTok got in on the nostalgia by partnering with Foursquare — except it's less about broadcasting your whereabouts and more about using its Attribution tool. Foursquare Attribution helps brands measure campaign effectiveness and how that correlates to in-store traffic. This comes on the heels of TikTok's launch of its "Branded Mission," which aims to bring advertisers and creators together for boosted content, more campaign contribution opportunities, engagement growth, and of course, an opportunity for creators to earn more.
Where Credit Is Due
TikTok's efforts to engage with both creators and brands to create win-win situations just keep rolling. There are also new tools that help credit and attribute content to the original creators, which is helping brands and audiences alike recognize the trendsetters that generate big content. This also helps to amplify underrepresented creators, especially those whose contributions are lost among the endless stream of content.
STC POV
There's certainly much to learn from TikTok. Whether it comes to forming connections between brands and creators, working on initiatives for creator activations, or even serving as a hub for Gen Zers so brands can partner with them more frequently to reach a younger audience, TikTok's significant cultural impact is no longer about dance videos and goofy gags (though we love them still). Activating creators on TikTok is now a strategic business move that can't be ignored.
Google's recent meet-up provides solutions, but also talks problems
What happens when you get a bunch of SEO marketers in the same virtual room?
They trade: Successes, challenges, keyword lists… Okay, maybe not the lists.
Google's summary of their latest virtual unconference provides insight into what's working well for SEO experts, and what could be better.
The key takeaways:
Quality product reviews from blogs and community sites are proving to be an effective top-of-the-funnel solution for driving traffic and acquiring new customers.
Organic and paid growth are more productive when they collaborate.
Paying attention to images is still one of the best ways to improve website speed.
Problems: There were also talks about the challenging side of e-commerce SEO, particularly when it comes to dealing with product variations and faceted navigation on websites.
Why we care: With e-commerce SEO getting more complex and competitive, it's helpful to know the landscape so you can focus on what's working.
Are we getting live shopping soon?
TikTok "can't stop, won't stop" with the feature updates.
Now it appears the company is looking to improve the in-app shopping experience with live shopping.
Shop and stare: TikTok may add a shopping bag button to live videos, which would allow users to scroll through your products while the video plays in the background.
Why we care: It's been coming. We've been hearing about TikTok live video monetization for quite a while, and now we're finally getting a sneak peek at what it could look like.
… If you angle it this way, it almost looks like a money printer.
5 questions you need to ask to run effective PPC audits
Pay-per-click (PPC) audits are valuable tools for identifying inefficiencies in your campaigns and uncovering hidden problems.
If your campaigns could use a lift, Navah Hopkins recommends asking five specific questions.
Let's get optimizing…
1) Does your account structure support your business goals?
A poorly structured account can undermine even the best creatives and waste your ad dollars.
To find out which structure will serve you the best, ask:
How much is a customer worth?
Are all markets worth the same or are some more valuable?
Do you need to invest in all parts of your business, or can you play favorites?
Some tips are:
Have one country for campaigns.
Use Dynamic Search Ads (DSAs) if your budget is not enough to cover all the parts of your business, but use negative keywords to avoid DSA stealing budget from general search ads campaigns.
2) Do you trust your conversion tracking?
We know… It's a sensitive question.
But when you're auditing campaigns, it's easy to misinterpret results because of poor tracking processes.
Three guidelines to follow here:
Make sure the right conversion actions are set to primary.
Confirm there are no instances of duplicate code.
If phone leads are important, make sure to use some form of call tracking.
Three more questions to go… But we're out of room here, so head to Navah's WordStream article for the rest.
TikTok wants you to rethink your marketing
What do anime, astrology, and videos of people eating have in common?
Answer: They're subcultures. And TikTok believes they'll help you make your next sale.
What are "subcultures"? Traditional demographics, like age and gender, have dominated how marketers think about their audiences.
But a platform like TikTok runs on rich, long-lasting subcultures: Communities that rally around particular topics.
So what does this mean for your marketing? Here's what we uncovered:
As of today, TikTok's targeting is limited. For example, if your ad account is from Europe, you can't target the US unless you request it from your ad rep, and vice versa. There are many other limits on TikTok's targeting that leave a lot to be desired.
TikTok recently added DMA geo-targeting. In normal words, that means you can now go narrower in your US-based targeting.
Advanced targeting options aren't available to every advertiser. Features that would be considered normal elsewhere, like lookalike audiences, are still not available to everyone on TikTok.
The Crew's take: TikTok is a subculture-focused platform, so you should take advantage of that in your ads.
If the info above sounded discouraging, the good news is that TikTok's ad reps are quite helpful, at least in our experience. You may unlock plenty of features after spending a few thousand dollars.
New WhatsApp API, automated messages, and more…
Meta just launched a number of new products that could be useful, especially if you're in e-commerce.
Here's the breakdown:
Cloud-based WhatsApp API: The new API is hosted on Meta servers, and should make conducting business on the platform more customizable, flexible, and cost-effective.
Messenger recurring notifications: Messaging customers frequently used to be a no-go. But Meta's new, albeit limited feature lets you send automated messages to your customers at each stage of the buyer's journey.
Updates to location targeting: Targeting US federal congressional districts is now on the table.
Keep it personal: Meta's new products are built for personalization and direct, streamlined customer communication.
Take this as a sign of which areas you should perfect in the coming months.
Now, for the "cool" news…
This Senate bill could change advertising
According to the US Senate, a company should either buy ads or sell them.
Not both.
And senators are proposing a bill designed to stop the "monopoly rents" imposed on every ad-supported website by big tech companies.
What that means: If passed, the Competition and Transparency in Digital Advertising Act (CTDA) would prevent tech firms earning more than $20 billion annually in digital advertising revenue from acting as both buyers and sellers of ads.
Which means Apple, Google, and Meta would have to divest lucrative segments of their businesses.
Why we care: Yes, this bill targets big tech companies, but it could have ramifications for the entire digital marketing world.
Even the Interactive Advertising Bureau (IAB) voiced concerns, saying that the bill could have "devastating consequences" on advertising.
Just another thing to keep an eye on. Hooray.
How the 95-5 Rule could help your marketing strategy—and how to use it
75% of companies buy computers once every 4 years.
80% of companies change banking services once every 5 years.
And in B2C, 90% of consumers buy new cars every 10 years.
Why should you care?
Because for most products—especially B2B products and high price point items—only about 5% of the market is ready to buy right now.
And as Tyrona (Ty) Heath explains in this article, while it's easy to focus on ready-to-buy audiences…
The big bucks eventually come from the 95% who aren't yet ready.
That's the principle behind the 95-5 Rule: Advertise to buyers who are not likely to buy from you… yet.
For example: You don't buy a BMW because you saw an ad on Facebook.
You buy it after you have been exposed to the brand for years. Eventually, when you can afford it or it's time for a new car, you become the proud owner of a BMW.
So yes, target "hot buyers." But don't forget to allocate a budget for "future buyers," too.
After all, they represent the biggest share of the market.
… And your future cash flow will largely depend on the ads you launch today.
One final note: Test this theory before you commit to it 100%. Why? Because not every product or service faces a market of "on" and "off" buyers.
Generally speaking, there are about five stages of awareness in marketing, and the customers in those stages might represent more than 5% of your market.
Just something to keep in mind!
How to write better CTAs for your site
Call-to-action buttons (CTAs) don't get enough love.
While they may not seem as important as headlines or subheads at first, they're the things you want people to click.
… Which means that their text, and the pages they link to, are actually more important than marketers realize.
The mistake many brands make? Using the same CTA text on every page, like "Book a Demo" or "Buy Now," and linking all of those buttons to the exact same page.
Here's a better way to think about it: Think of your CTAs and links as a user flow.
First, consider how users get to each page. For example, how do people find your homepage? If it's mostly cold traffic, do you really want to send them to your "Book a Demo" page? Or should your CTA send them to a product page so they can learn more about your offering?
Then, write page-specific CTA copy. If it's a pricing page CTA, use pricing-focused text, like "Start today for $0." If it's an About page, something like "Learn more about our product" might make more sense.
Bonus tip: If it helps, try drawing out your ideal user flow on paper.
This will help you visualize the ideal path you want people to follow, and it'll be easier to tailor your CTAs to guide people through that flow.
Following this simple flow can improve your CTAs and conversion. Give it a try and let us know how it goes!
Facebook and YouTube Releases Reports To Help You Finding Attention-Grabbing Content
According to Facebook, people are engaging the most with videos that are both entertaining and funny. What else is grabbingg user's attention? Videos with thumbnails and visible text. YouTube's report showed us what video users replayed the most, showing us exactly what people found the most engaging. These reports are exactly what you should be paying attention to. They are a guideline to help you better understand what content is driving engagement and what you should be focusing your marketing efforts on for your specific target audience.
E-Commerce Sees Unprecedented Growth in Other Areas of the World
The Amazon of Latin America, is seeing huge growth in sales. Well, apparently, they're not the only ones. Africa's major e-commerce company Jumia also saw an increase in revenue by 44% from Q1 last year. Asia's Sea, the owner of the largest e-commerce platform in Southeast Asia, also reported major growth during Q1. What does this mean for us marketers? Start testing your marketing efforts in different regions of the world. If your business isn't location-based or if you ship worldwide, start considering other target audiences (hint: Asia, Africa, and Latin America).
App Usage on the Rise
Sure, e-commerce in the U.S. is slowing down…but apparently, the top online shopping, tracking, and delivery apps had an increase of active users by 87% compared to last year. This is good news for e-commerce. Yes, it's true, people are returning to physical stores. But these reports show that e-commerce remains the most convenient way for consumers to shop. Time to start planning your media strategy effectively.
Etsy is upgrading its search engine capabilities
Time to become a Search Etsy Optimization expert…
The e-commerce platform announced it will now consider keywords in listing descriptions, tags, titles, and more when ranking them on the platform.
Wait, that sounds familiar… Etsy also recommends incorporating your top keywords naturally and organically, including essential product information as well.
Why these matters: More and more e-commerce platforms are fine-tuning their native search engines—and they shouldn't be underestimated. Here's why:
Why we care: Customers are already using native search on platforms like Pinterest, Etsy, and Amazon… and those search tools are becoming increasingly powerful.
Optimizing products for these new search engines could be a new way to drive customers and revenue.
Speaking of search…
Are you overspending on search ads?
WordStream just released their industry benchmark report for 2022… and it could help you optimize your ad spend.
Here are the most important insights:
The typical cost-per-click (CPC) ranges from $2 to $4.
Travel and furniture industries saw the biggest increase in CPC.
Shopping, collectibles, and gifts have seen click-through rate (CTR) decrease by 13%.
Legal services have the highest cost-per-lead (CPL) at $80, while the pet industry has the lowest at $18.
Why we care: Industry benchmarks can help you make educated decisions when optimizing your campaigns and planning budgets.
For example, you may think a $4 CPC for your pet food brand ads is fine… until you realize $2 is the industry average.
… It can also provide useful context: A widespread decrease in CTR for shipping and gifts correlates with e-commerce slowing down.
Sometimes it's nice to know that poor ad performance isn't entirely your fault…
How this grocer uses recipes to drive sales
Umamicart is an e-commerce store selling Asian groceries.
And as Maria Monteros reveals in this post, Umamicart sells close to 2,000 products for preparing Asian recipes.
50% of their sales come from their shoppable recipes, with some viral posts bringing over 400k views.
And while Umamicart doesn't share their revenue figures, we do know they recently raised $7M in capital… So clearly something's working.
Let's take a look at the ingredients of their success:
Shoppable recipes: Umamicart creates posts that look like most recipe blog posts… with one key difference:
They give users the opportunity to "Add the kit to cart."
In other words, if you landed on the "mango sticky rice dessert recipe," you could add all the necessary ingredients to your cart with one click.
Why this works: Andrea Xu, the co-founder and CEO, said that most of their customers either grew up eating that food or discovered the dishes through friends or restaurants.
But while they know a dish, they don't know what ingredients they need or how to cook it.
So Umamicart satisfies these different needs in each post:
They show readers how to prepare the dish.
They give readers the chance to buy all the ingredients with one click, saving them time on research and shopping trips.
Usually B2B companies are the ones creating "how-to" content.
But Umamicart shows this kind of content can work for almost any business.
The takeaway: No matter what your product is, show customers how to use it. Satisfy their need for information. Then, plug your product.
The more useful and actionable your content, the better your sales will be.
ROUNDING UP THE STACK
TWITTER: Big update for the Twitter API… Developers will now be able to access the platform's reverse chronological timeline much easier than before, which means third-party apps are about to get a lot better. Hopefully.
E-COMMERCE: Is buy-now-pay-later (BNPL) slowing down? Klarna, one of the biggest BNPL services, just let off almost 10% of their entire team.
AMAZON: … Aaaaannd Klarna's not alone in cutting costs. Amazon is looking to terminate or sublet a chunk of their leases with warehouse landlords due to excess space. E-commerce in the US continues to drag its feet.
GOOGLE: Yay! We're finally getting new Ad Manager tools for video ads specifically. This should mean less speculating and more accurate data… at least in theory.
GOOGLE: Business Messages is expanding. Google announced they're adding Twilio, Genesis, and Avaya—some of the leading companies in customer care and communication—to their partner list. Quite the lineup.
SEO: If "bad" or "toxic" backlinks to your website are making you nervous… you can relax. Google just ignores them.
E-COMMERCE: Promising, but young. The Southeast Asian e-commerce market is growing, but the CEO of one of the largest venture capital firms in the region says it's still in the beginning phase. Plan your marketing strategies accordingly.
SNAPCHAT: See it on eBay, share it on Snapchat. The platform released an integration that lets you share eBay listings as snaps and stories. While it's restricted to personal connections only, it sounds like a potential marketing channel for influencer campaigns…
PINTEREST: Do you know what your customers' travel plans are? Pinterest shared some of their insights on top travel trends for the summer. Turns out "glamping" is all the rage this year.
YOUTUBE: They just introduced shoppable ads. And now, YouTube is teasing livestream ads as well. As if we needed any more evidence that they're gradually turning into an e-commerce platform…
TIKTOK: It's not only Gen Z! Grandma and grandpa are also climbing into the TikTok bandwagon, with the number of users aged 60+ increasing every day. So if you're targeting seniors, it looks like you've got a new ad channel.
ADVERTISING: Scan carefully. QR code advertising is getting big on TV, but it opens the door for scammers and other problems. This article suggests some solutions.
Facebook and YouTube want to help you identify captivating content
Finding out what stops the scroll is invaluable info to any marketer.
And two platforms are lifting the hood on what makes for attention-grabbing content:
Facebook just released their Widely Viewed Content Report, claiming users love engaging with videos related to entertainment or humor. What's notable is that the top two most-viewed videos had thumbnails with visible text included.
YouTube went further and released a feature that will allow you to see which part of your video users replayed the most, revealing exactly what your audience found most engaging.
Why we care: Facebook's report can help you understand what content drives overall engagement on their platform.
And YouTube's feature can help you identify what's grabbing viewers, edit long-form content into highly engaging videos, and more.
Feel closer to your target audience yet?
Micro advertising networks are on the rise
Seems like everyone wants to be an ad company these days.
Marriott announced they're partnering with Yahoo to create Marriott Media Network, a "cross-platform" advertising solution for brand advertisers.
Booking more than rooms: This means Marriott will start showing ads to members who are enjoying their assets, whether it's staying in hotel rooms or using the Marriott Bonvoy app.
… And it's not just the hospitality chain. Best Buy, Lowe's, and other companies across various industries are creating their own micro advertising networks.
What's driving the trend: While the ad market continues rising, it seems mainstream advertising platforms aren't bringing the results they used to, thanks to ongoing privacy issues.
So marketers are looking for niche channels… and companies are obliging.
Why we care: Advertising on a smaller but more specific network could prove lucrative for many brands.
It wouldn't surprise us to see bakeries and pharmacies providing a platform for advertisers next.
Selling multiple products? Here's how to organize your store
The more options you give customers, the harder it can be for them to make a decision or a purchase.
So it's important to make good design choices when you offer many items.
One of the best design choices you can make?
Following these product variant design guidelines put together by the Nielsen Norman Group (NN/g).
Let's just cover the basics…
NN/g points out that there's a significant difference between "product variations" and "different products":
When you have one product—like a T-shirt, for example—that comes in different colors, materials, sizes, patterns, etc., that's a product variation.
When you have similar products—like long-sleeve T-shirts and short-sleeve T-shirts—which have different descriptions or features, then you have different products.
So how should you organize the different products and variations? Here's what NN/g recommends:
Give different products different listings.
Display product variations in the same product listing.
Here's why organizing your store this way is so important:
When you group different products in the same listing, users may not be aware that the item they selected has different features than the other ones.
That's especially true with more complex products.
Plus, most shoppers have already done some research and decided on which product to buy.
So when you send them to a page showing similar but different products, you're actually pushing them backwards in the funnel and adding friction to the buying process.
Our favorite underrated e-commerce channels
The advertising landscape has changed dramatically in the last few years—and many of the smartest e-commerce marketers are looking for channels to boost performance.
We did 100+ hours of research in April on e-commerce growth channels.
Here are our favorite, fast-growing channels that are currently flying under the radar:
TV and streaming ads: They sound old-school, but TV and streaming ads have huge distribution. And they convert! Jake Langley wrote a great thread about a brand generating more than $100M in sales by advertising exclusively on Fox News. As more TV ad platforms spring up, find your fit, and experiment away.
Podcast ads: Almost 40% of Americans listen to at least one podcast each month… and that number is climbing fast. Companies like Spotify have added features to make podcasts more attributable. This is a channel we expect to grow in the coming years.
Smaller Amazon competitors: Amazon has plenty of vertical competitors with ad platforms of their own. While they don't have the same audience size, they can still perform well—if you know where to look. A few of our favorites are Lowe's, DoorDash, Yelp, Best Buy, and Walmart.
$100,000,000+ in sales…just by advertising in ONE place?

You don't need to advertise in 500 different places…

Sometimes you just need to connect directly with the most relevant audience.

Here is the advertising secret to a huge health brand you have never heard of: pic.twitter.com/fhpGYSovPq

— Jake Langley (@Jake_Langley) November 19, 2021
There's one more underrated channel we didn't include here, plus effective ad formats few marketers talk about, in our full e-commerce channels Deep Dive.
You can check out the preview for free here.
ROUNDING UP THE STACK
YOUTUBE: Let's be real… Customers get tired of seeing the same ads. YouTube's new ad frequency capping solution will let advertisers control how many times viewers see their ads during the week. Could make ad spend more efficient, too.
BUSINESS: That's odd. Walmart found that customers spent more money, but the number of transactions stayed the same. Sounds like inflation…
TIKTOK: Running influencer campaigns? TikTok's new Branded Mission feature helps brands and talented creators collaborate to make ad content. Partner up!
GOOGLE: New Google Ads Scripts updates just dropped. Now you can set your bidding strategies with scripts and process more entities, like campaigns and ad groups, in the same amount of time. Yay!
YOUTUBE: Turns out long-form videos are popular with young viewers in the UK. According to one report, Gen Z users are three times more likely to use YouTube than TikTok. Good to know.
Is Elon Musk even interested in buying Twitter?
He says he wants a better idea of the number of bots on Twitter, something he suspects is a lot larger than the company even understands. It's hard to figure out if he's indeed trying to drop the deal he's already made, or trying to renegotiate for a lower price. Bizarrely, he's even trying to get the SEC to investigate. "Hello @SECGov, anyone home?"
Have you heard of Mastodon?
Don't worry, there's a reason why this open-source Twitter isn't taken seriously — it's just too complicated. But it's still fun to give it a go.
Apple is finally allowing podcasters to upload subscription-based audio through distribution platforms like Acast and Libsyn.
Currently, you can only publish directly on Apple's Podcast Connect.
TikTok has a new feature that will allow creators to tag and credit others for their inspiration.
No one likes getting their memes, jokes, sounds, or dances stolen or uncredited so creator recognition is a big deal — and makes smart business sense.
Simon Owens has some thoughtful comments about newsletter platforms.
This is why he thinks Substack is still the way to go:
It's free
It looks good as an article for folks who aren't reading you in their inboxes
You can host and publish podcasts on the platform as well
Why do people avoid news subscriptions?
Tim Groot Kormelink, a Dutch researcher, found four main reasons:
The price is too high
There are already free alternatives available
Unwillingness to commit to even more content
Delivery and technical issues
Netflix cut 150 jobs in the U.S. as revenue growth slows.
Some of the cuts involved executive-level positions in the originals team.
Netflix appears to be losing a significant chunk of its long-term subscribers, according to The Information.
Some 13% of cancellations have come from folks who've been on the service for more than three years, showing just how hard it's been to retain subscribers.
Meta is reportedly holding off on hiring in several teams, including those it started early in the pandemic to compete with Zoom and to enter new areas.
According to The Verge, it's also paused the hiring of recruiters, leading employees to speculate that layoffs are coming. "I can tell you that as of where we sit today, our expectation is not that we're going to have to do that," said Zuckerberg in a leaked recording. "And instead, basically what we're doing is we're dialing growth to the levels that we think are going to be manageable over time."
Candle Media acquired Gen Z-focused content production studio ATTN: for a reported $100 million.
ATTN: (pronounced "attention") creates entertainment-style content to explain larger issues to younger audiences mainly on social media.
CNN apparently sent welcome packages for its laid-off staff days after the company abruptly ended the CNN+ service.
They received pens, headphones, and even a popcorn maker. "This is an incredible time to be part of CNN. Build relationships and take time to connect with colleagues and learn so that you make the most of your time here." Ok thanks bye.
Deciphering start-up jargon
All industries have unique terms and jargon that outsiders simply don't understand. From a content marketing perspective, jargon often acts as a barrier. Click2View has been doing some work with venture capitalists lately and discovered a lot of jargon. While jargon can work when targeting industry experts, many brands need to look outside this customer pool. Making your content inclusive is vital in this case.
In-game advertising
With three billion gamers worldwide, brands are keen to get noticed in the gaming space. The question is how. While display advertising was the original format, many gamers found them intrusive. This has led to advergaming and branded experiences — where the content is more in line with the gaming experience. That's the key: gamers will accept advertising so long as it doesn't disrupt gameplay.
How much is gaming advertising worth?
Advertising spend in gaming is on the rise. In 2015, revenue of the video gaming advertising industry was US$2.83 billion and it's projected to rise to US$4.8 billion by 2024. Brands are clearly willing to spend but will have to find the right format to ensure a return on investment.
Web 3.0 & content creators
It's still in its infancy, but Web 3.0 is a new vision for a decentralised internet built around blockchain technology. (Or it's the metaverse depending who you ask.) But in this Web 3.0, data is no longer held by one platform like Facebook or YouTube but in multiple locations in the blockchain. It essentially frees content creators from the whims of the algorithms. It also creates new revenue and engagement opportunities through tokenisation. By purchasing tokens, fans can be rewarded with exclusive content and build a stronger connection with the creator. Could creator empowerment be around the corner?
Here come the Australian elections — and this visual guide to the whole thing by Bloomberg.
I love a good election explainer, because it can be a profoundly useful tool in helping someone make a decision that can, well, affect an entire country's policies for generations. The piece is a pretty good breakdown of what to expect, from the candidates, namely: ScoMo, AntAl, AdaBa, PauHa, CliPa, and SimHo, as I am now going to call them. It also breaks down some trend graphs on stuff like the vote spread, the power shifts, the decisive women's vote, social inequality ("wealth for the top 20% [is] some 90 times that of the lowest 20%"), climate change (aka how to cut emissions without sacrificing mining jobs that are vital to the economy), and other illuminating bits and pieces.
Rest of World has a new product called RoW100 about influential people in global tech.
It features a whole bunch of amazing people, "from a former investment banker whose startup became India's largest online cosmetics retailer to a business analyst from Venezuela who launched the country's only delivery app; from the investor who helps lead a collection of innovation centers across the African continent to an engineer who built a streaming platform that is set to transform the music industry." The industries these "Global Tech's Changemakers" work across are crypto, digital infrastructure, ecommerce, fintech, policy, and, well, Masayoshi San, who is really just an entire industry category unto himself in a scary sort of way. But I'm keen to see what this list could grow into: could it become Rest of World's tech biz database? Or a tech biz report business? Or even the world's biggest tech biz awards show? It's fun to speculate, but the possibilities are exciting.
Jack Dorsey's Block has just done a deal with the rapper Kendrick Lamar. I know you're thinking NFTs and web3, but this is actually a banking deal.
I mean, Jack used to run Twitter, his company Block used to be called Square, and Kendrick is a major rap star. Their deal is ostensibly about offering Kendrick's fans early access to his new concert tour. But this deal isn't about the music so much — it's how people access it, which means it's about banking. And it's mostly thanks to Block solving a problem for Gen Z users who need to use money — and banks — very differently. The ancient financial institutions that run international money movements as we understand them have been pitching to younger audiences for a while, but it's a slow process. (I mean, let's face it: the emoji for 'bank' is a large building with Greek columns) In stark contrast, the DNA of Cash App and Venmo is in social transactions. "Block's Cash App has gradually entrenched itself among the young and historically unbanked, overtaking Venmo a few years ago as the unofficial go-to cash exchange app on social media." So if you're an independent vendor or creator, Cash App gives you simple tools so you can get paid — by any credit card user. It also functions as a virtual bank. It allows you to invest in stocks and bitcoin. And now it's in the events market. Much like media used to be, banking has always been a gatekeeper business. Maybe it takes a media startup founder to change the consumer banking business into the user-centric thing it was always meant to be.
Are you a freelance journalist who needs to pitch a development story to #globaldev and #globalhealth organisations?
You're in luck! The mighty folks at the Freelance Journalism Assembly have put together a whole handbook to solve exactly that problem. "We know that editors receive a high volume of pitches and truly hope this handbook helps you prepare winning pitches that stand out from the crowd." Now go forth and use your superpowers to change the world.
I love this expertly constructed thread about what data visualisation animation is good for.
The use cases are explained with beautiful examples in the wild. You can use animated data to show
Time ("how did global temperatures change over time?")
Movement ("how did this team pass the ball, play by play?")
Process ("here's how this thing works")
Variability ("how jobs grew", "how the election is going")
Emphasis by panning and zooming ("how undrinkable is this town's water compared to the standard?")
Comparison ("how does the rise in sea levels actually affect this ex-president's luxury resort?")
What is #dataviz animation good for? A thread with examples.

— Joey Cherdarchuk (@cherdarchuk) May 13, 2022
This is the Facebook Pixel for WordPress on steroids – once installed, it's a one-click installation for your Facebook Pixel. With it, you can get detailed targeting you can't anywhere else along with full WooCommerce support for your eCommerce entrepreneurs out there.
It's also the only plug-in backed by a Facebook Marketing Partner. Why pay for premium plug-ins when ours does more for free?
Podcast Ads Are Crushing It
Looking for a new platform to place your ads? Well, if your audience are podcast listeners, now's a great time to start placing your own podcast ads. Reports show that podcast advertising is expected only to get better and ad revenue is believed to triple in the coming years. That means lots of growth, folks!
New Consent Pop-Ups for Google Ads
Google's new update (yes, another new update) requires additional consent updates on Google Ads that will affect re-marketing and conversion tracking. Sure, this lets users decide to opt in or out of re-targeting, which can have a huge impact on your ad performance. However, if you don't show users a consent pop-up, Google can penalize you. They can even go as far as to ban you from the advertising platform altogether. Pay attention to this one and make sure you're up-to-date on these new updates for Google Ads.
Latin America Sales on the Rise
MercadoLibre, basically the Amazon for Latin America, recorded a 63% growth during their Q1 report released last week. This is huge news as many parts of the world have seen quite the opposite- a big decrease in online sales. This is something we talked about in last week's Growth Hacks newsletter. But this week, we're learning that in Latin America, there's still some solid chances to market online. This could be a sign that it's time to start looking at new marketing opportunities to expand your business or service, and according to these new reports, Central and South America seems like a pretty good one.
TikTok's usage predicted to beat YouTube's
The popular social media platform already raced past apps like Facebook and Instagram when it comes to usage time.
And now it seems the clock is ticking and tocking for YouTube, too…
Mind the gap: eMarketer reports that over 40% of Gen Z average 3 hours a day on TikTok, and just over 3 hours a day on YouTube.
The difference between both apps' usage is about a fraction of a minute.
That may not sound like much, but those minutes add up. Researchers predict TikTok will close the gap and outrun YouTube next.
Why we care: More time spent watching TikTok videos means more time your customers could spend watching your ads.
So if you're already running ads on YouTube, you might consider TikTok, too.
In the meanwhile, Mark Zuckerberg is trying to catch up with both…
Have you started making short videos yet?
So far, we've seen enough evidence to conclude that Facebook and Instagram are very serious about making short video work:
At the end of February, Instagram said it will stop supporting the IGTV app. What will they focus on instead? Reels, their TikTok clone.
Around the same period, Facebook expanded Reels to (almost) all countries around the globe.
The latest one? Meta is pushing publishers to shift toward short videos, because it's the segment where the platform is experiencing the most growth in user engagement.
This will be a headache for news organizations.
But it's a useful trend for you: When a large platform focuses heavily on a specific content format it usually rewards people who use that format. Whether it's organic or sponsored posts.
TikTok is growing bigger than ever. Meta is aggressively shifting toward short videos… If you didn't do the shift to this format yet, now it's the right time.
How to make advertising claims without getting sued by the FTC
"John made $60K in 30 days following my system."

"Jessica went from $0 to $20K a month without applying for a single gig."
In case you weren't aware…
The Federal Trade Commission (FTC) recently started cracking down on money-making claims like these.
And if you make these similar claims in your advertising, you could be held liable—and even sued.
Which is why you should pay attention to Rob Freund's Instagram post.
Rob is a lawyer for brands, agencies, and creators, and he has some advice for making claims that won't get flagged by the FTC.
He suggests keeping two points in mind:
1) If the results in your advertisement don't reflect what a typical client can expect to achieve, you need to disclose what a typical result is.
And you need to disclose typical results "clearly and conspicuously."
Tiny disclaimers at the bottom of your landing pages won't save you. And according to the FTC, neither will fine print saying "Results are not typical."
2) You must be able to substantiate typical results, which in legalese means you need to be able to back them up with proof.
Note: We are definitely not legal experts here. You should always consult a lawyer about FTC regulation.
But if you use testimonials in your marketing, these points may give you enough guidance to help you stay out of legal trouble.
5 pieces of popular writing advice you can ignore—and what to do instead
The Crew has collectively read thousands of pieces of writing advice.
And while you'll find a lot of great info out there, there are a few popular mantras that just aren't always useful or true.
Here they are, along with what you can do instead:
"Write at an elementary-school level." This isn't helpful. Instead, write at your audience's level. If you're in a space with high-level readers who use a very specific vocabulary, you can take advantage of that. It's all about context.
"Stop using phrases like 'I think' and 'I feel.'" This bad advice applies to communications at work. When you remove a phrase like "I feel," you fundamentally change the meaning of what you're saying. Your writing goes from a subjective opinion to an objective assertion. Instead, make the decision case by case.
"Write how you talk." Writing saves the world from our roundabout way of talking. A better interpretation of this advice is to write naturally. Know your audience and write for them.
"Always write short sentences." We've seen this one pop up on Twitter. In reality, many of the world's best sentences would be considered run-ons. Instead of taking this advice, vary your sentence length and build up to the big ones.
"Don't use adverbs." You're often told to stay away from adverbs. That's because they're overused. A better rule? Only use an adverb if it makes a real impact on the tone or emotional impact of what you're writing.
A final piece of advice from The Crew: Remember, only a Sith deals in absolutes. All advice you get in writing and marketing should be taken in context and broken when appropriate.
If you're ever given a piece of advice as an absolute, the person is either wrong, or a red-lightsaber-wielding movie villain.
Meta Platforms is reportedly reducing the money it gives news organisations.
The Information says the company wants to trim costs while at the same time is evaluating the value of news on its platform. Perhaps that's not too surprising. Meta's sponsorship of the news industry can't possibly last forever, while its intended happy relationships with large publishers haven't quite had the outcome it wanted.
For some reason, Elon Musk thinks Twitter can earn almost $10 billion in revenue from subscriptions by 2028.
Just for context, that number is double the $5 billion in total revenue Twitter made last year. The New York Times got hold of his pitch deck to investors — and there are some good hints of new products, including a mysterious "X" that might get the company across the $10 billion revenue mark.
YouTube is testing gifted memberships.
This will make it easy for fans to show their support of creators by buying a membership for someone else. Just like what you can already do in Twitch.
Is it time for you to get on TikTok?
Three TikTokers have some tips for journalists to win on the platform. "The more ad hoc you are, the more amateur you will be. You have to get under the skin of the community and the platform." Be amateur! Be under skin!
The Guardian has some interesting updated social media guidelines for its journos.
First, it wants reporters to know that social media is optional. "Most staff can do their jobs extremely well using social media either occasionally… or not at all." Second, you should "regularly" delete your historical tweets and other social posts. It goes as far as to recommend the use of the paid Tweetdelete service, which can be expensed.
India's Adani Group is reportedly looking to buy stakes in TV and print news companies.
The conglomerate is hoping to diversify from its shipping and coal-mining roots — although its interest in news is an interesting one. It recently signed a deal with BSE-listed Quint Digital Media to buy a minority stake in Quintillion Business Media.
The gaming industry is taking steps into the advertising industry.
"Creating a three-hour brand experience, where people are leaned in and completely engaged — that's totally different than a 15-second TV commercial." Net effect for publishers: More competition for ad dollars.
Do you understand the difference between an output and an outcome?
Many publishers don't. Media companies are focused on creating content — but rarely understand the importance of creating an outcome. Outcomes are customer-focused — giving them what they want instead of pushing yet another article, video, or podcast. An important read for any product manager. My quick takeaways:
Features are outputs. Outcomes are the impact that these features can have on customers and the business.
Don't test ideas. Test assumptions. It's a cheaper and faster way to figure out if this is what your user wants. Learn quickly.
When interviewing users, don't give them room to speculate. Don't say, "What would make you buy this membership product?" Instead say, "How would something like this help solve a problem for you?" Get to specifics.
This is a better way to start up.
Alexis Grant is a serial entrepreneur and put all that know-how into launching They Got Acquired, which helps people build and sell companies. She set a simple goal for an MVP: Get 1,000 email subscribers before launch. "I didn't want to launch to crickets, and I knew that building up even a small list would help us get traction when we pushed the site live."
It's easy to conflate community with customer.
What makes a community member different? "Beyond using, liking, or writing glowing reviews of your product, they spend time forming connections with other people based on a shared affinity for it."
Private traffic is a hot trend on WeChat.
Brands are discovering ways to get you into private groups, treat you like a person, and get you to buy buy buy. "Private traffic binds customers to a brand. It makes a shopper into a real follower and a loyal fan."
Time Lapse Videos
Some products can't be made quickly. Think major construction projects like high-rises, stadiums or houses. How do you showcase construction skills on video? Potential customers aren't going to watch weeks of footage. Time lapse recordings allow you to showcase the size and complexity of a project as well as any innovations.
India's Adani Group is reportedly looking to buy stakes in TV and print news companies. The conglomerate is hoping to diversify from its shipping and coal-mining roots — although its interest in news is an interesting one. It recently signed a deal with BSE-listed Quint Digital Media to buy a minority stake in Quintillion Business Media.
The gaming industry is taking steps into the advertising industry. "Creating a three-hour brand experience, where people are leaned in and completely engaged — that's totally different than a 15-second TV commercial." Net effect for publishers: More competition for ad dollars.
Do you understand the difference between an output and an outcome? Many publishers don't. Media companies are focused on creating content — but rarely understand the importance of creating an outcome. Outcomes are customer-focused — giving them what they want instead of pushing yet another article, video, or podcast. Here's a book recommendation — Continuous Discovery Habits by Teresa Torres. An important read for any product manager. My quick takeaways:
Features are outputs. Outcomes are the impact that these features can have on customers and the business.
Don't test ideas. Test assumptions. It's a cheaper and faster way to figure out if this is what your user wants. Learn quickly.
When interviewing users, don't give them room to speculate. Don't say, "What would make you buy this membership product?" Instead say, "How would something like this help solve a problem for you?" Get to specifics.
This is a better way to start up. Alexis Grant is a serial entrepreneur and put all that know-how into launching They Got Acquired, which helps people build and sell companies. She set a simple goal for an MVP: Get 1,000 email subscribers before launch. "I didn't want to launch to crickets, and I knew that building up even a small list would help us get traction when we pushed the site live."
It's easy to conflate community with customer. What makes a community member different? "Beyond using, liking, or writing glowing reviews of your product, they spend time forming connections with other people based on a shared affinity for it." (Bonus: Check out the community funnel graph in the article; it's useful.)
Private traffic is a hot trend on WeChat. Brands are discovering ways to get you into private groups, treat you like a person, and get you to buy buy buy. "Private traffic binds customers to a brand. It makes a shopper into a real follower and a loyal fan."
Apple is finally saying goodbye to its iconic iPod. The thing that disrupted the music industry, and was later disrupted by the phone.
Mainstream Metaverse
It's official, the metaverse has gone mainstream. While a lot of consumers have heard of the term, few of them actually understand what it is. In a March survey of this year, 74% of respondents had heard of the metaverse (up from 32% last July). When it came to understanding though, only 15% felt they could explain the concept. For marketers ready to dive into digital worlds you probably need to check if your audience is ready to follow.
What Do People Want to do in the Metaverse?
So, who knows what the metaverse is and what do they want to do there? Unsurprisingly, Gen Z and Millenials have a better understanding of the metaverse and both groups (40% and 38%) want to play games in it. The Boomers and Gen X'ers listed virtual international travel as their must do activity in the metaverse… which makes you question their understanding.
Brands and Social Responsibility
What social responsibility do brands actually have? With many brands and corporations wielding real social power, they can't simply claim to be selling a product or service. The leak in the US of the Roe v. Wade Supreme Court draft opinion will put pressure on brands to stake a stand when it comes to women's reproductive rights. There's no need to be overtly political, many brands are framing their response as a health issue, but when it comes to customer and employee engagement remaining silent isn't an option.
Big upgrades to responsive display ads incoming…
Google's advertising team is up to something.
And while they're making us wait until Google Marketing Live on May 24 for all the details, they recently teased some of the ad improvements they've been developing over the last few months.
Here's the sneak peak:
Responsive display ads (RDA): Google is introducing a mobile-first layout that will automatically format any asset to fit mobile screens.
Testing and machine learning: You'll be able to test millions of possible RDA placements by uploading just a few images, videos, and headlines. Machine learning will also help you uncrop images in product ads to remove white borders.
Creative inspiration hub: There's talk of a library of the most successful creative assets handpicked by the Google team.
Time to get comfortable with the machines: Google's recent and upcoming updates prove they view automation as integral to the future of advertising.
That could free up advertisers to focus on producing quality creatives while the machines handle the testing.
Strong pitch but can streaming ads get the performance advertisers want?
We have more updates from NewFronts for you today.
Connected TV (CTV) is a big topic, with ad spend increasing 57% in 2021 and an expected 39% growth in 2022.
Why is that? Because streaming platforms are improving their services. Here are three of the newsworthy bits from NewsFronts:
Roku announced that TV streaming devices passed legacy pay-TV in weekly reach among adults between the ages of 18 to 49. It's also allowing retailers to pair shoppable ads with Roku Pay to remove friction from the customer journey.
Tubi launched Campaign Insights to help advertisers better match audience and context. Tubi has 51 million active users according to their 2021 stats.
FuboTV, a sports-focused service that markets itself as a cable TV replacement, also launched new custom targeting. It uses first-party to create custom audience segments that can be classified by sport and genre interest.
Why we care: The last 12 months have been full of news about how loss of data from privacy-focused updates hurts performance for many advertisers. First-party data and contextual advertising could be where marketers get some of that performance back.
Speaking of first-party data…
Why you should avoid high cardinality in Google Analytics 4—and how to do it
There are two types of marketers in the world:
Those who don't know what cardinality is…
… And those who know high cardinality creates reporting issues that can skew your analytics.
Let's start with the basics.
According to Google, cardinality is the total number of unique values for a dimension.
For example, the "mobile" dimension can have two values: "yes" or "no".
That's an example of low cardinality. And low cardinality is a good thing.
Because as Charles Farina explains in this Twitter thread, dimensions with high cardinality can cause big problems.
When implementing Google Analytics 4, you'll want to avoid cardinality at all costs.

What is cardinality and why should you care? pic.twitter.com/iu5z5bfmmu

— Charles Farina (@CharlesFarina) April 21, 2022
In Google Analytics 4 (GA4), if you have a dimension with a lot of unique values, it can cause every dimension to be aggregated.
GA4 creates the rolled-up entry "other" in the report to contain the data that exceeds its system limits.
What a mess!
So, how do you keep your analytics clean and accurate? Try reducing your unique values.
Here are some fixes:
Strip out all the query parameters from your URLs
Try to avoid setting user_id in a custom dimension.
Make sure to lowercase everything.
And now, you can count yourself among the marketers who know what cardinality is… And how to keep it from getting out of control.
How to network on social media
Big deals used to happen over whiskey and cigars in five-star New York restaurants.
Today? They happen over Twitter DMs and inside LinkedIn private messages… well, at least some of the time.
Truth is, smart social media networking can connect you with great people: Clients, customers, business partners.
But you don't want to be the guy who copy-and-pastes the same DM to every account you come across.
Here are a few tips for effective networking on social media:
Create familiarity before messaging. Try commenting on somebody's posts for a few weeks before sending them a message. If they recognize your face, they may be more likely to respond.
Know the difference between straightforward and salesy. You should always provide context for why you're sending a message. Use a tone similar to a luxury suit tailor rather than an aggressive street vendor.
Try a few different angles to learn what works for you. There are three common angles for cold messaging on social media: asking a question, suggesting a value add, or going straight for the sell—usually by asking somebody to book a call. Find what works for you.
One thing to keep in mind: When you network, you're obviously doing it in the hopes of making money in the near future.
But that shouldn't be obvious in your message. Remember, social media is about being social.
So be friendly and valuable above all else.
You're a Twitch streamer, and you're struggling with burnout
But don't worry — there's still money to be made. Things have been busy. Your fans around the world have collectively watched over eight and a half billion hours of live-streamed video games across platforms — in the first 3 months of 2022. But you need something more sustainable than marathon video game sessions for people to watch. Here are some ideas in this fascinating story on Bloomberg — you could
make a deal with YouTube to start your own company to "provide technical infrastructure to other streamers." You could "offer custom emoticons to fans and allow them to wager digital points on the outcomes of events within the live videos", and "facilitate the creation of custom apps by third-party developers."
build a game development studio
start a production company
run a brand consulting firm
or simply create direct-to-consumer brands.
"The gaming landscape has dramatically evolved from where it was five years ago, and there are more opportunities for content creators now than ever before".
This is a fascinating case study of one BBC News Russian slide that talked about 'user needs' in 2017 — and what that slide looks like five years later
Back then, the Beeb research said audiences wanted more from newsrooms: they "want to be updated, yes, but they also want to be educated, kept on trend, inspired, amused and given perspective, all on the key news topics of the day." Five years later, here's what happened:
The total number of published stories was cut by 60%, but "all average metrics per story per user need category grew, and the overall audience tripled"
The story planning and commissioning process is more consistent around stories planned for audience relevance, with less wastage of newsroom resources.
"In 2016, 'Keep me on trend', 'Give me perspective' and 'Educate me' user needs were in demand, but not enough of them were created – it was a clear missed opportunity." Five years later, page views per story in those categories averaged respectively grew by 84% for 'trend', 250% for 'perspective', and 277% for 'educate'
Five years ago, an average 'Update me' story was read 4,000 times; now that figure is 22,000 times — "a 450% growth"
Atlas Obscura now has puzzles
The puzzle strategy, aka the old come-for-the-crossword-stay-for-the-stories trick, has long been a great way to win conversions, (especially after the NYT scored their massive Wordle coup). It's interesting to see Atlas Obscura follow that playbook. They've done a deal with a truly fascinating puzzle company called Inkubator, who make "crossword puzzles by women and nonbinary constructors." Hey, if a puzzle is what your audience wants, it might need to be your next big media product.
Passwords are so yesterday — say hello to the passkey
The three companies that run your devices just announced that the future is passwordless. Apple, Google, and Microsoft are responsible for most of our tech: from the Android and iOS operating systems in mobile, the Chrome, Edge, and Safari browsers, and the Windows and macOS desktop OSes. And because we operate similar environments from discrete devices, the three giants all got together to decide we can use our phones as our main authentication device for the rest of our digital setup, including apps, websites, and other digital services. This happens thanks to a unique cryptographic token called a passkey. This tech has been around for a bit — this just means it's been codified into a new standard. "When passkey support becomes available across the industry in 2022 and 2023, we'll finally have the internet platform for a truly passwordless future." Goodbye, passwords — we were never really Fr13nD$.
Moderation was famously not a thing that Substack did
That just changed — they just launched some basic moderation tools on the newsletter platform. The founders have long been on the laissez-faire end of the moderation spectrum. "The announcement, made earlier this week, means that readers can report offensive comments to publication admins, and those comments can be approved or reported."
And then there are always beautiful food photos
What's the second-best thing to a Kashmiri kebab? A spectacular award-winning picture of a Kashmiri kebab seller.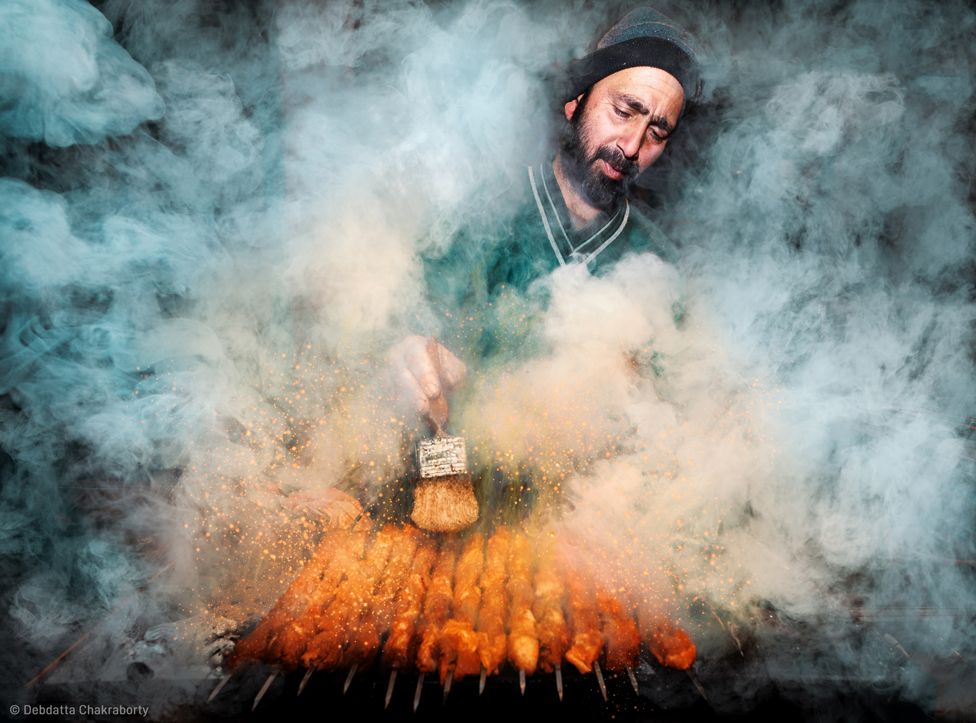 USER RESEARCH IS WHERE GREAT DESIGN COMES FROM
That Eames chair you use — knockoff or original — is a testament to great design solving a user problem
The plywood-bending technique for all their famous chairs came from making leg splints for the military. Their now-ubiquitous airport seating design was developed by talking to airport cleaning staff. "The biggest misconception about Ray and Charles is that people think of them as designers with a capital D. They actually called themselves tradesmen; people came to them with a problem to solve."" What user problem are you solving in your newsroom today?
How's this for an innovative user survey?
The BBC's hypothesis was that people in the UK were taking its service for granted even though it's a major part of their daily lives. So for nine days, it deprived 80 households of any kind of BBC content — news, entertainment, dramas, cooking shows, podcasts — just to see if that would get people to the point where they would say, "take my money". This cold turkey methodology might just be worth stealing for your next user research.
Will you join this fast-growing advertising channel?
Hope you're wearing comfortable headphones…
According to this IAB report, podcast advertising is crushing other channels when it comes to ad revenue growth.
To put it into perspective: Digital advertising revenue went up by 30% last year. Podcast advertising grew by 72%… more than twice that number.
What's driving this growth:
Dynamically inserted ads are taking over: Ads being read by podcast hosts are beginning to replace pre-recorded sponsored ads. They now take up to 84% of the space.
Increasing number of pre-rolled ads: Ads placed before the actual podcast content rose by 10% since 2020.
Optimal ad length: More than half of podcast ads are now 15-30 seconds long, about 20% longer than two years ago.
Why we care: Podcast advertising is getting better, and ad revenue is expected to triple in the coming years… which means this channel is poised for explosive growth.
If your audience listens to podcasts, now's an excellent time to start running your own podcast ads.
Buy-now-pay-later shows no signs of slowing down
Several days ago we reported that the buy-now-pay-later (BNPL) industry is killing credit cards: 4 out of 5 shoppers turned to BNPL in order to avoid credit card debt.
No brakes on this bandwagon: According to another recently published report, BNPL will be the fastest-growing e-commerce payment method through 2025 in the US and Canada.
How to adapt: Fortunately, accepting BNPL as a payment method is becoming easier for e-commerce marketers.
Shopify, for example, already has a "Shop Pay Installments" option. Your e-commerce platform may have a similar option too.
If your e-commerce platform doesn't offer BNPL integration, you can always type "BNPL providers [ the country where you sell ]" in your favorite search engine, and you'll probably find companies that can help.
How this project management tool went from 0 to $20M ARR… in 2 years
That's right. In 2 years, ClickUp generated 85K paying customers and gained a $4B valuation with annual recurring revenue (ARR) of $20M.
It gets even more interesting when you realize they did that while competing with the likes of Asana, monday(.)com, and Trello.
Nathan Ojaokomo breaks down their strategy here. And his analysis contains some marketing nuggets, like…
The 6 steps ClickUp took to define their product-market:
Determine your target customer. ClickUp's target customer was literally anyone who wanted to be more efficient at managing their project.
Identify needs that current solutions do not satisfy. In 2017, there were many project management tools. But they only did one thing well, therefore, people had to use different tools.
Based on step #2, ClickUp created a unique value proposition: "One app to replace them all and help you save one day every week. "
Specify the features of your minimum viable product (MVP). Based on market feedback, ClickUp created a set of features their MVP had to have.
Once they established the features, they developed their MVP, which started as a web app.
Finally, ClickUp tested product-market fit by putting their MVP in front of real customers.
Of course, that's just a snapshot of Nathan's analysis.
If you want to know how ClickUp generates 767K visits monthly, or how they leverage paid and organic social media, read the entire article.
How to raise prices without angering your customers
So you've decided it's time to raise your prices.
Maybe it's because your product has grown, maybe it's due to inflation, or maybe it's something else.
How do you make the bump less painful to customers?
Here's what we'd suggest based on our own experience increasing prices:
Raise your price in chunks, not gradually. Every quarter, we evaluate newsletter growth and adjust our prices accordingly. We don't change them every week or every month. The less often you raise your prices, the fewer times customers will ever have to think about it.
Justify price hikes with quality improvements. If we increase readership by 20%, for example, a 10% price hike for an ad slot feels almost generous to sponsors. If you're selling T-shirts, maybe it's because you're using a better fabric quality that justifies the price increase. Frame it this way to ease your customers' frustration and show them the value they're getting in return.
Having a good reason is better than having none at all. It's much easier to increase your prices if you have a reason for doing so, particularly if that reason is something that benefits your customers. If you're raising prices due to external factors, try to find ways to justify that increase.
It's an art, not a science. We don't have a rigid plan for increasing our prices over any given quarter or year because nobody can predict the future.
The best thing to do is reflect on what's right for your business, and decide when it's time to make adjustments.
We hope our suggestions make those adjustments a little easier!
Get ready to show more consent pop-ups if you're using Google Ads
Another day, another Google policy update.
And if you're remarketing to people in Europe, you'll want to take notes on this one.
First ask and then retarget: This new update requires you to have additional consent updates on your property for Google Ads remarketing and conversion tracking, and possibly Google Analytics as well.
Effective May 11th, Google has a new Ads policy that requires consent components to be in place for remarketing and conversion tracking for European visitors.

This also can apply to Google Analytics (especially if Ad integrations are enabled). pic.twitter.com/TCxo8gmPkh

— Charles Farina (@CharlesFarina) May 6, 2022
Like walking a tightrope: On the one hand, letting users opt out of retargeting can have a significant impact on your ad performance.
However, not showing users consent pop-ups can result in Google penalizing you—or banning you from the advertising platform altogether.
Online sales are ramping up in Latin America
Retail giant MercadoLibre, kind of like Amazon but for Latin America, recorded a staggering 63% growth during Q1, surpassing initial expectations.
Why they're thriving: Despite physical stores reopening across the region, the company has seen a surge in online user adoption.
According to CFO Pedro Arnt, it's partly because the company offers services that benefit in-person shopping too, like a digital wallet for in-store payments.
Why we care: With some parts of the world seeing decreases in online sales, it's good to look for new opportunities to diversify your business, and South America seems like a good one.
How fashion and apparel stores can reduce friction during the buying journey… and make more sales
When shopping for clothes, one of the biggest interests buyers have is finding the right size—especially if they're buying from an international store.
But you know what's crazy?
A study conducted by the Nielsen Norman Group found that only a few shops do a good job of helping customers with sizing.
So customers usually end up visiting other websites to make sure that the clothes they're interested in will fit.
Which is where you come in.
By solving this problem for your customers, you remove friction from their buying journey, making their experience more enjoyable and stress-free.
And for you, that means more sales.
The Nielsen Norman Group offers several valuable suggestions for reducing friction around sizing:
Users expect to find sizes in their country's format. They don't want to have to dig around for sizing charts. Yoox, an Italian fashion retailer, solves this problem by showing American users both the original size and the corresponding US size.
If you sell multiple brands, create brand-specific size guides. Shoppers know that sizes differ from one brand to another, and they know that a standard size guide for all brands is inaccurate.
Make sure size charts are easy to use for mobile shoppers.
Include body dimensions that fit each size so shoppers know what size is perfect for them. Clothing measurements can be helpful too, especially when users look for a fit different than the one shown on the model.
Hopefully these suggestions help your customers find the right fit and pull out their credit cards faster!
Use these simple words to increase your conversion rate
What if we told you there's a special class of words that, when used properly, can give a healthy boost to your conversion rates?
There is, and these words are called power words. These are words and phrases that elicit a strong feeling from your readers.
To demonstrate, we've written a short piece of copy for a hypothetical email service provider company.
The power words are in bold:
"It's frustrating. Sending great emails shouldn't feel like pulling your hair out. Complicated software shouldn't be the thing that holds you back from sending the right emails to the right people—and making more sales as a result.
So we built Hypothetical. Because you deserve software that makes building beautiful emails feel like magic. And because it should be absurdly easy to do."
Two things are happening in this sample piece of copy:
We use power words consistently, helping readers connect emotionally with the copy.
When talking about the problem, we use negative power words. When talking about our solution, we use positive power words.
This boosts conversion because, whether readers know it or not, they're learning to associate a positive emotional response with your brand––and a negative one with the alternative.
So take a look at your current copy.
If you're noticing a lack of power words, well… It might be time to mix things up.
P.S. We used two power words, special and healthy, in the first sentence of this insight. Did you notice?
New Brand Safety updates:
Meta (Facebook) has been introducing brand safety features over the last few years to give advertisers and businesses more control over where their content appears on the platform.
These are the new brand safety updates currently in development:
Third-party brand suitability verification in feed. Meta (Facebook) has selected Zefr as a partner to provide reporting on the context in which ads appear in the feed on Meta (Facebook). They'll be working to find new ways to verify and measure the suitability of ads next to adjacent content (like the video played after an in-stream ad). This can benefit both the content creator and the advertiser.
Content-based feed controls for businesses. This will help advertisers avoid showing up next to content that doesn't align with their brand's core values
How have the privacy updates affected Facebook Ads Targeting

Upon its release in April 2021, the IOS 14 update has affected advertisers through the loss of data. As 47% of smartphone users use iPhones and only 4% allowed tracking, there have been huge impacts on the way Meta (Facebook) can target

Google Chrome and other browsers have talked about changes to cookies, affecting the ability to track after leaving Facebook and Instagram ads

Could have similar impacts to the IOS 14 update
What does this mean for you: All in all, this is Meta (Facebook) way of trying to help combat the maze that is iOS14 and its updates, this update should not have any negative effects on your ads, however as Facebook make these changes the platform may experience unexpected glitches to campaigns and ads. The iOS14 updates are now in full effect, meaning further tracking loss may be implemented – we can combat this through looking at google analytics.
As of April 11th, 2022, Meta started rolling out changes to consolidate the Ad Topics and Interest Categories controls into a single Ad Topics control, which will cover a more extensive set of ad topics. People will be able to access it on both Meta (Facebook) and Instagram. This will simplify and expand the controls people have by allowing them to use a single control to set preferences across ad topics that reflect the interest targeting categories advertisers may use to reach them and the content they might see in an ad.
What does this mean for you: Although Meta (Facebook) claims that these changes are to the benefit of the advertiser, it is actually one of the biggest shifts we have seen in audience targeting since the iOS14 optimisations. For many businesses, the removal of some of these interest-based audiences means that some of the previous best-performing audiences will no longer deliver out to market – meaning new testing and new learnings will need to come into play on the impacted campaigns.
For example; If previously your best-performing audience was 'Alcoholics Anonymous Interests' we would no longer be able to use this as an interest-based, instead we must begin to use ad copy and creativity to find these people.
How will we overcome this: In order to combat these changes, many of your campaigns have already been updated with new targeting to ensure they keep on running – A creative refresh and new ad sets is where we should be focusing in order to limit the impact here and to help combat ad fatigue. Your ads will continue to run as usual, and extra testing and eyes will be on your campaigns in this period. It is important to note that this change is affecting all agencies globally.
Facebook Is "Simplifying" Campaign Objectives Over The Next 12 Months
Facebook is redesigning the objective-selection process in Ads Manager. They're calling it ODAX: Outcome-Driven Ad Experiences. This update is a staggered roll-out, as such the available information is limited. We do have some insights to share and will continue to update you as more information is received.
ODAX: Outcome-Driven Ad Experiences
Facebook is constantly adding, removing, and changing functionality. Flows are changed. The overall design doesn't. As a result, the process of creating a campaign has become increasingly complex and confusing, particularly for newer advertisers.
Facebook is moving towards Outcome-Driven Ad Experiences (ODAX). After selecting your desired outcome (the objective), the advertiser will be guided to the most optimal setup. Granted, that sounds exactly like how the current/prior process is meant to work. Now, it just has a fancy name. But that process has gotten messier over the years, and ODAX is evidence of prioritising a cleaner and less confusing organisation.
The easiest way to explain this update is that the objectives will be simplified.
The biggest change for advertisers will be the removal of the current 11 campaign objective options being replaced by 6 simple options that can be selected as the ultimate campaign goal. Your selection will impact your advertising options, including optimisation and delivery.
Does Functionality Change?
Facebook has said that nothing will actually change. In other words, you won't lose functionality that you previously had, and it doesn't appear that any new functionality emerges. This is all a matter of simplifying and making the flow more logical and less confusing (or at least that's the goal).
One of the highest impact changes is the selection of leads or sales. The prior "Conversions" were used for any type of conversion on your website, whether a lead or a purchase. It appears that Facebook wants to separate value-based conversions under the "Sales" objective. The assumption is that all lead types (Facebook lead ads and website leads) are combined under Leads.
Again, though, it appears that nothing is truly changing — just the flow for how you get to your eventual goal.
Privacy-first Facebook ad targeting: Terms to know
Here are a few definitions to help you track along with further information
ATT: This stands for App Tracking Transparency—the Apple iOS feature that was first rolled out with the iOS 14 update, where users can opt-out of being tracked across the web by apps (such as Facebook).
Third-party cookies: Third-party cookies collect data about a person's activity as they surf the web. This third-party data is then used by advertisers to get insights on their ad viewers and website visitors, and by ad, platforms to provide targeting audiences based on interests, behaviours, and more.
Deprecation of third-party cookies: This refers to Google's plan to eradicate third-party cookies from Chrome in 2023. Browsers like Safari and Firefox already block third-party cookies, but this is an especially big deal given that Chrome takes 63%of the browser market share
Meta's, Twitter's, and Pinterest's First Quarterly Earnings Report
Things are interesting… Meta reported user growth is finally making progress, but revenue didn't grow. Twitter didn't make its revenue goal but noted that user growth is strong and better than expected. But I'm not sure I trust them all too much as they have admitted they've over-counted users for 3 straight years. Trust issues. For Pinterest, reports show an overall slow decline in users since the pandemic hit while seeing slightly improved revenue. So, what do these reports tell us? Well, users are…using but revenue is low. It doesn't make that much sense. Are ad advertisers not advertising on social media ads anymore? I mean, clearly search ad revenue keeps rising on all of these platforms, so this is most likely where part of the ad budget is going. We'll have to keep an eye on this trend as it gives us insights into what ads are working—and where marketers should put their ad dollars into.
Amazon's Decline in Ad Revenue
Amazon's Q1 report just came out and it doesn't look good. This is the first record of a downtrend in two decades from the company, with advertising revenue not even close to hitting normal expectations (like, half a billion dollars). Amazon is just another one of the latest tech companies, after Meta and Twitter, who recently announced similar declines as well. So, what's going on? Well, the biggest reason is probably because life has returned to normal. People are going offline. Physical stores have seen a big increase since last year. Airbnb announced they've been flooded with downloads and bookings, which just adds to the argument- people are moving off-online and are more eager to travel and have in-person experiences. Being a successful marketer means keeping up with what's working and what's not working. Knowing these types of trends will help you adjust your marketing strategy accordingly. Try channels that are working for marketers and find ways to better improve customer experience.
Tik Tok's Revenue Expected to Triple in 2022
That's right. Tik Tok is close to having ad revenue higher than Twitter and Snapchat COMBINED. On top of that, the company is poised to own 20% of the social media market share. This means as marketers (if you aren't already) you should be putting most of your profitable channels into platforms like Tik Tok. I mean, a social media platform predicted to own 20% of market share… are you using it yet?!
E-commerce sales are dipping worldwide
Seeing a slight downtrend in your online sales?
It's not just you.
The entire e-commerce industry is taking a hit, with many heavyweights reporting missed revenue estimates and plummeting stocks:
Shopify recorded the biggest fall in shares, with earnings failing to reach analysts' expectations. The company recently acquired Deliverr Inc., a startup fulfillment company.
Etsy had it rough with fee spikes and merchant strikes, and now they've reported just 5.2% in revenue growth. It's the first time their revenue grew by single digits.
eBay's earnings are already expected to miss initial Q2 expectations by as much as 9%.
Why we care: All signs point to the pandemic e-commerce frenzy slowing down. It seems the "old normal" is becoming the new "new normal" again.
Time for e-commerce to find new ways to take back the market…
Advertisers are adopting Google Ads automation
… And they've got mixed feelings about the features.
What's going on: According to the latest State of PPC Global survey, 97% of respondents started using Google Ads' Responsive Search Ads, and another 95% have tried out Smart Bidding.
78% have used Auto-applied Recommendations.
Thumbs down: A whopping 83% expressed dissatisfaction with Auto-applied Recommendations, and 63% weren't happy with the Recommendations tab.
Thumbs up: Scripts and targetCPA Smart Bidding got the most favorable reviews, and other tools got decent reviews as well.
Our takeaway? Yes, advertisers have complaints, but many are embracing Google Ads automation.
Either they're banking on the tools getting progressively better, or they're already saving a bunch of time by letting algorithms do most of the work… Or both!
Why we care: If you haven't tried Google Ads automations, some of the tools may prove useful.
Plus, you can always use the results of the State of PPC Global Report for 2022 survey as a guide.
4 practical ways to make customers fall in love with your business
Novelty.
That's the main concept of this LinkedIn post by Casey Hill.
Novelty, Casey explains, is a powerful yet underused strategy for surprising and delighting your customers.
Sure, it means swallowing a few upfront costs. But in the long term, novelty helps you transform ordinary customers into raving fans.
Here are four examples of novelty that Casey uses in his business:
Over-deliver: After someone buys one of his courses, he sends them a complementary course for free.
No, it's never easy forgoing an order bump to give a product away.
But by sacrificing money in the short term, you make more money back when the customer becomes loyal.
Special treatments for everybody: When a user starts a free trial for Casey Hill's SaaS company, they receive a personal welcome.
That's thousands of individual welcomes sent out every month!
Go the extra step: Casey Hill's company is a video platform, yes.
But when they get onboard new clients, they ask if they can help their business in other ways: Facebook Ads, organic growth, email marketing.
The demo turns into a free business consulting that leaves clients delighted.
Leverage partners: Find a company that sells a product complementary to yours, and add their offer to your package for free, or give them a discount on your partner's product.
The trick here is not revealing the gift before they buy. Remember, the goal is to surprise them!
With this strategy, your partner gains access to new audiences, and you gain loyal fans.
So get creative with novelty. You'll find out that there are countless ways to surprise and delight your customers.
But in the meantime, you might want to check out the rest of Casey's ideas.
Master the magic of cold email with this simple structure
A well-written cold email can unlock many things: A new client, a new business partner, a new sponsor, and even top talent.
Most cold emails, however, unlock… well, nothing.
This section will show you a simple framework for writing cold emails that your recipients actually want to read and respond to.
First, the structure. The best cold emails usually follow the same formula:
Introduction: Say who you are.
Personal connection: Something interesting to show them you care.
Context: Tell them why you're emailing.
Value proposition: Explain why they should care about the thing you're emailing about.
Call-to-action (CTA): One simple and specific action you'd like them to take.
You shouldn't need more than 150 words to cover all of these things. And if you follow the structure above, your cold emails will be better than most.
Second, three considerations to keep in mind:
You won't sell anything with your first email. So instead of asking for sign-ups or demos, ask a question to gauge interest in your product. You can also suggest a quick call, but this is less likely to get you replies.
Personalization is usually the make-or-break. If there's a line in your email that shows you did legitimate research on the person you're emailing, you're golden.
Most business owners read hundreds of cold emails every year. Truth is, most people you want to reach already get lots of cold emails. So the less generic your message is, the better.
Cold emails can work like magic… But only when you write them with some magic of your own.
New ads and messaging tools are dropping soon
Meta is leaning heavily into the small business space these days.
They published a list of soon-to-be released updates… and it promises lots of opportunities for connecting with customers.
What's new:
WhatsApp in Inbox: The popular messenger will be joining Instagram and Facebook in Business Inbox, which means you can manage all customer conversations in one place. Soon you'll be able to make ads directly from the WhatsApp Business app, too.
Messenger promo blasts: Meta is testing a feature that will allow you to send promotional messages via Messenger to users that opted in.
Lead generation improvements: You'll be able to gate content without redirecting users to your website, filter leads that look promising, and more.
Why we care: If you're running messaging campaigns, these features could give your customers even more personalized experiences with your brand.
… Especially if customers are already buying from you on WhatsApp.
And on the operations side… Meta's plan to integrate WhatsApp with e-commerce sounds like it would make setting up and managing campaigns a bit easier in general.
32 more countries just got access to ads
Two things are guaranteed to expand this year: the universe, and the Microsoft Advertising network.
Taking over the globe: Microsoft announced their ad platform is now available to 32 more countries in Latin America and Asia Pacific, months after they gave access to 29 markets in Europe and Africa.
Why we care: If your location prevented you from running ads in the past, you may want to check again.
If you're currently running ads, now you have access to an additional 59 million people making 780 million searches monthly on Microsoft and partner sites.
And it seems like Microsoft is just getting started: The company plans to enable advertising in 103 more countries by the end of the year… a total of 150 countries!
How to get cheap leads using Google's Local Services Ads
Ever tried using Local Services Ads (LSA)?
They are a type of Google ad for home service-based businesses.
There are three main differences between traditional Google Ads and LSAs:
LSAs are based on a pay-per-lead structure, rather than pay-per-click.
Your ad rank depends on factors like customer reviews, proximity, and hours.
LSAs also tend to be much cheaper than Google Search Ads.
And Navah Hopkins has valuable tips for leveraging LSAs while keeping your cost per lead (CPL) low:
Don't target more than three major markets. In an ideal structure, you'd have each LSA profile focusing on one major market, corresponding to one Google Business Profile (GBP).
If you have only one GBP, make sure you're targeting locations that are in close proximity to your target prospects.
Set higher bids and budgets. LSAs are known for providing cheaper leads. So it's tempting to opt out of auto-bidding and go for lower budgets.
However, this will often result in your ads being underserved, or not being delivered at all.
Navah suggests setting a budget three times higher than what you intend to spend because Google often struggles to spend the budget.
Mark your leads. When a lead converts and turns into a client, mark it as closed successfully and archive the leads that do not convert.
When you do this, you help Google understand where to spend your budget in the most efficient way.
Good stuff, right? Use LSAs well, and your marketing dollars will go farther than traditional paid search ads because you only pay for calls lasting two minutes or form fills.
Navah has four more tips in her post, plus a list of all the businesses that are eligible for LSAs.
A system for "stealing" from your competitors' copy
You've heard it a thousand times: Good artists copy; great artists steal.
But there's an element of truth to this phrase, and there's a simple system for using the copy written by the competition to improve your own.
Here's how it works:
Find landing pages you like (or that you know convert) in your industry. You're probably already aware of the big players.
Write down all of their headers and subheaders. You can do this in a spreadsheet, a Google Doc, or on paper.
For each one, break down what angle they're selling on. Value propositions equal quality plus benefit, so identify the quality and the benefit for each header and subhead.
Now create your own copy, inspired by each of these angles. Once you've identified an angle for a particular competitor's header, write 5+ headers and subheads of your own with your company's unique take on this angle.
Choose the best ones and iterate on them. Once you've written dozens of lines of copy, pick the best ones and iterate until you find something that works. This may take a while.
Why this works: Writing copy without inspiration is like playing darts in the dark, especially if you're not a seasoned veteran.
Writing your own iterations of competitors' copy, with your own unique value props and style, of course, can help you to identify the angles and exploit the gaps they're probably missing.
And it gives you material you can start working with right away. Much better than staring at a blank screen!
ROUNDING UP THE STACK
GOOGLE: Another peak behind the Google curtain. Someone noticed that the search giant is testing a brand new swipeable carousel ads format. The question is… Will the carousel stick around?
E-COMMERCE: More and more companies are giving advertisers access to their first-party data. Shopify introduced Shopify Audiences. Similarly to Facebook's Lookalike Audiences, it lets you create audience clusters from the platform buyers' data. The catch? For now, it's only available to Shopify Agency Partners.
ANALYTICS: Ready to make the jump to Google Analytics 4 (GA4)? It's okay, nobody else is, either… But this article might help. And yes, you can run GA4 together with Universal Analytics while you're preparing for the transition.
GOOGLE: Extra safe meetings? You can now ask people to verify their email when booking appointments in Google Calendar. It might help you keep malicious parties away… and maybe follow up quality leads.
GOOGLE: Heads up, food brands. Google released new guidelines for virtual and delivery-only business profiles. Wash your hands and read the list before returning to work.
PPC: Friendly reminder… If you're retargeting EU users with Google Search Ads and you still haven't updated your consent pop-ups, better do that now. Google is enforcing the updates today.
ADVERTISING: First skip intro, then skip ad. Netflix seems to be in a hurry to introduce an ad-supported subscription plan… and it may come by the end of this year.
GOOGLE: Stem cell therapy must be going mainstream. Google is relaxing their policies and now allows advertising for stem cell therapy, but only for FDA-approved products.
TIKTOK: How'd you like to track foot traffic? TikTok is using Foursquare's location-based attribution to help you find out if your ads are attracting customers to your stores. Sounds like a useful feature.
SEO: That's a wrap. Google Search Central Unconference just ended, spanning 25 sessions and covering a variety of Google topics. This article provides a nice little recap for anyone who couldn't attend.
ADVERTISING: Playing hard to skip. YouTube has numerous design variations of the "Skip Ad" button—and it's deliberately making the feature unpredictable to users.
E-COMMERCE: Unlikely partners in Prime. Amazon has been quietly teaming up with local mom and pop shops in a trial delivery program for rural areas.
SEO: Sitemaps are getting thinner! Google is retiring some video and image sitemap extensions in a bid to simplify your website's codebase. After August 6, they will no longer affect indexing or search features.
META: Stop trying to be perfect. According to Meta, users prefer unpolished ads that "feel more human." The social media platform recommends brands follow six Culture Codes for better campaign results.
E-COMMERCE: "Add it to my tab." Buy-now-pay-later (BNPL) continues to rise in popularity, with nearly a fifth of global consumers using the service in the past six months.
SEO: Has the debate about duplicated content been settled once and for all? Google's resident search expert says it's about the value you're adding, not about the content you're duplicating.
When it comes to duplicate content, Google's @JohnMu has a great one liner "I'd focus on the value that you're adding, not on the content you're copying." pic.twitter.com/riPB4M68HD

— Barry Schwartz (@rustybrick) May 6, 2022
LINKEDIN: Content creators who want more Linkedin exposure will have to get more creative. LinkedIn is finally downranking engagement-baiting posts… And yes, that goes for polls, too.
ADVERTISING: Will we ever solve ad fraud? Maybe… If marketers learn how to code. But according to this anti-fraud consultant, it seems the best solution is for the "whole thing" to "crash and come down." Yikes.
TIKTOK: Speaking of fraud… Apparently there's no such thing on TikTok. The platform achieved a "Certified Against Fraud" status for 2022. Nice.
We're proud to announce that TikTok has achieved @tag_today Certified Against Fraud status for 2022! Learn how this certification demonstrates our ongoing dedication to building a safe, transparent and trustworthy platform for users and brands: 👇 https://t.co/AU656z9aie

— TikTok for Business (@TikTokBusiness) May 5, 2022
GOOGLE: Good news for crypto-friendly merchants. You can now target seven more countries with cryptocurrency exchanges and wallets ads. You just need to comply with certain rules.
SNAP: Changing rooms are so 2021. Virtual product try-ons on Snap are getting more popular, with mainstream apparel brands like Puma and American Eagle testing Snapchat's upgraded tools.
SOCIAL MEDIA: It's not about who you know, it's about what you're watching. TikTok claims they're less of a social network and more of a content network. Interesting.
People are spending a movie's worth of time each day on TikTok. 📽️🍿

That's because TikTok runs on a content graph, not a social graph. It's not about who you know; it's about what interests you, so the algorithm keeps presenting new and interesting videos. #NewFronts22

— TikTok for Business (@TikTokBusiness) May 4, 2022
TIKTOK: Talk about impressions. TikTok is launching Pulse, a premium ad program that will place your ads next to the most watched videos on the platform. Creators are getting a slice of the revenue, too.
TWITTER: You can learn a lot about shopper behavior by reading tweets. Twitter published an infographic revealing the most popular shopping conversations and keywords. Yes, the word "inflation" is also trending.
SNAPCHAT: The talent pool just got deeper. Snapchat is partnering with Cameo for Business, the celebrity video on-demand platform. So if you've ever daydreamed about getting celebrities into your Snapchat Ads…
We're thrilled to announce our Snap Cameo Advertising Program in partnership with Cameo for Business. This program gives advertisers access to an impressive pool of recognizable talent to create engaging, high-performing ads on Snapchat that feel tailor-made for your audience. pic.twitter.com/eEfKnBQlop

— Snapchat for Business (@SnapForBusiness) May 3, 2022
INSTAGRAM: Is Meta stealing ideas from TikTok again? Instagram is testing out a machine learning feature that will predict the content you'd like to see in your feed… Kinda like TikTok.
📣 Testing Feed Changes 📣

We're testing a new, immersive viewing experience in the main Home feed.

If you're in the test, check it out and let me know what you think. 👇🏼 pic.twitter.com/dmM5RzpicQ

— Adam Mosseri (@mosseri) May 3, 2022
MARKETING: Got a marketing problem? There's probably an app for it. Martech's marketing technology software database has created a "map" of 9,932 possible solutions to help you, uh, narrow your search.
GOOGLE: Gambling and games policy are off to the races. Google will allow online horse racing ads in four more US States. But if you plan to advertise, you'll need a certification first.
META: The status of Facebook and e-commerce? It's complicated—and not only because of iOS updates. Retailers, advertisers, and even Facebook executives are finding online shopping challenging, and tools like Instagram Shop aren't helping much… Yet.
TIKTOK: It's hard to name a better duo than TikTok and influencer marketing… And the social media platform knows it. They recently published a guide to collaborating with creators, which could be useful.
META: OpenAI's GPT-3 language predictor has a new competitor. Meta made their own language AI and they're giving it away for free so researchers can pick it apart. Seems like a rare move for Big Tech, no?
MICROSOFT: Edge browser continues edging out their competitors when it comes to desktop usage. They now own 10.7% of the entire market share. While that's tiny compared to Chrome's 66% share, it's still impressive…
PODCASTS: Do you remember the name of Facebook's podcast tool? You probably don't. So you won't be surprised to hear that Meta is shutting down the feature… And their entire audio hub.
AMAZON: Bye, Alexa.com. Amazon is retiring its extensive website database after 20+ years. It may not have been the most popular or useful tool in recent days, but it's still sad to see an OG go.
GOOGLE: Feel like your personal data is exposed? Don't worry. Google will now allow you to remove personal information from search results… Unless they deem it "broadly useful" or part of public record.
BUSINESS: Are Europeans starting to pinch their pennies? We recently covered dipping retail sales in the UK. Now Germany is facing a similar drop in sales. Is it a coincidence… Or a sign for concern?
TIKTOK: Guess how $350 goth platform boots suddenly started selling 5.000 pairs a week? Yep, TikTok. And you thought goths only bought from Hot Topic…
GOOGLE: Whew. Remember when Google told us that they were retiring the Business Profile Manager? Turns out that was a false alarm.
Update – the Google Business Profile Manager is not going away for those who manage multiple listings a Google spokesperson told me just now. The pop up message saying it was going away was a mistake… More at https://t.co/8sul2D6mon cc @JoyanneHawkins pic.twitter.com/d68Zz2Cmcz

— Barry Schwartz (@rustybrick) April 29, 2022
SEO: 404 errors everywhere! This study by Ahrefs claims that at least 66.5% of backlinks are dead. Sounds like a link building opportunity to us…
MARKETING: "Want to get rich quickly just by swiping on your smartphone?" If you're running ad campaigns making claims like this, better hit pause and come up with new creatives. Or you might get sued.
Quartz was sold to G/O Media for less than $10 million — a mere 1x multiple of revenue, according to Axios.
This tells me that the new owner is merely buying the company for its existing sales pipeline (perhaps with the assumption that Quartz will miss its own internal revenue forecast). There's no brand or talent value from its 100 staff to speak of. Perhaps unsurprisingly, Quartz is still unprofitable — it lost almost $7 million last year with no plan for profitability until next year. Quartz's co-founder Zach Seward put a positive spin on the takeover, saying "Our newsroom can just be laser-focused on great journalism, serving our readers, growing that readership. And I hope [they will] worry less about where our financing will come from next, or the ups and downs of the ad market."
News Corp Australia acquired Stockhead, a five-year-old media startup focusing on small-cap stocks on the ASX.
"Stockhead's recognised financial information content combined with a thriving content marketing portfolio makes it a very neat and attractive fit for our business."
Vice Media is reportedly looking to sell its valuable studio business to pay down its $1.1 billion debt.
The unit brings in the most revenue for Vice so a potential sale would be devastating for the business. Another way of looking at it: it's the only thing that's actually valuable about Vice.
TikTok launched its first ad product with a rev share with creators.
TikTok Pulse will run ads on the top 4% of all videos on the platform (one good way to guarantee brand safety) and provide a 50-50 split with creators. U.S. advertisers will get this next month and other markets after that.
Digiday interviewed 23 creators to get an idea of which platforms actually make them money.
I've been waiting for something like this.
Facebook may be losing interest in audio.
It's killing its podcast platform (ngl, I don't think I even knew it had one) called Soundbites to "simplify" its audio offerings. Creators won't be able to add new podcasts as of this week. Facebook's Clubhouse copy known as Live Audio Rooms will also be integrated into its Facebook Live suite. So what's the next once-hot thing to go? I'm guessing it's going to be the Substack copy Bulletin.
Telegram now supports crypto payments — this could help digital tokens gain mainstream acceptance.
Twitter is testing a feature that will allow you to share your thoughts with a specific group of people.
Just like Instagram's Close Friends feature.
So here's your first peek at what an edit button looks like on Twitter.
Everyone's been waiting for this. Warning: Don't get too excited; it looks exactly like every other edit button out there.
Google made it easier for you to remove your personal details from its search results.
You're now able to tell Google to remove data like phone numbers, email addresses, or other sensitive materials that could compromise your online accounts.
How's this for an innovative user survey?
The BBC's hypothesis was that people in the UK were taking its service for granted even though it's a major part of their daily lives. So for nine days, it deprived 80 households of any kind of BBC content — news, entertainment, dramas, cooking shows, podcasts — to see if that would get people to the point where they would say "just take my money". This cold turkey methodology might just be worth stealing for your next user research.
Here are some smart ideas about transforming journalism schools.
"I would blow up the faculty model for most instruction that takes place in journalism schools. To be tenured for life is fantastic for a professor; to be taught by someone who was last in a newsroom 30 years ago is absurd to ask students to accept."
Buying Wordle may have been a master stroke for the New York Times.
In its latest earnings report, the company said Wordle brought "an unprecedented tens of millions of new users to The Times". Many of these players apparently stayed to play other games on the network.
Nieman Lab actually wrote a tribute to meeting booking tool Calendly.
"My last three brain cells couldn't go on being polite, scheduling based on my sources' timezones, and then converting (often incorrectly) to Eastern Standard Time. And then creating a meeting in Zoom. And then creating a calendar event and sending it."
Starbucks is keen to try out some web3 ideas around an ownership-based community membership model.
"Imagine acquiring a new digital collectible from Starbucks, where that product also serves as your access pass to a global Starbucks community, one with engaging content experiences and collaboration all centred around coffee." But it's still not clear to me why this needs to be done on the blockchain.
Spotify has its own space in Roblox — a set of islands with different experiences.
Players get to make music, play games, interact with virtual artists, and pick up virtual merchandise. The first theme: K-pop.
Events are content
Events, whether digital or live, take up a lot of marketing resources. Fortunately, they also create a lot of content opportunities which means even the leanest marketing team can not only extend the shelf life of any event but use it as a source of content for content marketing. Content from the event can be used to make blogs, videos, podcasts – filling up your content calendar in the process. See how it can be done.
AI personalisation
When it comes to successful content marketing, personalisation is considered key. Creating content that is unique, relevant and customised for a target audience boosts engagement. While this is easy enough in an EDM campaign, it's not so simple with online advertising. AI is set to change things. Mutiny, an AI company personalising website copy and headlines has just raised US$50 million. Essentially, it uses AI to deliver thousands of unique versions of a website or landing page depending on the visitor.
Spotify in the metaverse
The streaming giant Spotify is making its first steps into the metaverse, specifically the Roblox gaming one. Spotify Island gives players the tools to make music, play games, and interact with virtual artists. The music platform has created a game focussed on its audio offering.
Roblox engagement
It's no wonder brands want to get into the metaverse, especially the gaming one. Hours spent per quarter in the game peaked last year at 11.8 billion. Sounds like a captive audience?
Interesting Marketing Video and Report
Annoying and distracting office software comes alive.
Sound and audio design are vital to any video, even if it's on noise-cancelling headphones.
LinkedIn brings to life the professional social network. #FindYourSpace
Healthcare workers are like Olympians, you never think about them until the next pandemic or Olympics happens.
It's something only Red Bull could do, putting professional F1 drivers in a Florida Swamp Buggy.
Grandmas in space! A very wholesome VR experience. #SpaceDay
We all know what you can record on an iPhone but very few know how to do it. Here are a few tips when it comes to recording hawker food.
Tongue twisting video content (you will need a professional rapper for the delivery).
Fast forward to 18:26 to see Adam West's original campy Batman in the new bleaker and modern day version.
Microsoft, Amazon, Roku, and Twitter announce new ad features
Watch your feet…
Big companies are dropping advertising updates right, left, and center.
Let's start with the two that announced their features during IAB NewFronts, one of the most important marketing events of the year:
Amazon announced "virtual product placement" which would let brands insert ads and products into hit movies and shows… After they've aired.
.@amazon announces "virtual product placement" – a way to insert ads / items after filming has wrapped. Think virtual billboards in any show that has already proven to be a hit. #newfronts

— Michelle Castillo (@MishCastillo) May 2, 2022
Roku revealed shoppable ads, which enable viewers to shop while streaming their favorite content. They also announced a partnership with Microsoft to research the impact of TV ads on online searches.
Speaking of Microsoft… They just launched a ton of new features, too, including a new Smart Remarketing feature which uses automation to remarket your product to users most likely to convert.
Finally, Twitter released a new ad placement called "Tweet Replies."
Is your brand running app install campaigns on Twitter?

We've got good news: We're giving all app advertisers a chance to tap into a new surface to scale their mobile app campaigns and reach people engaged in conversation. pic.twitter.com/ewOK7dbqNz

— Twitter Business (@TwitterBusiness) May 3, 2022
Right now you can only optimize it for app install campaigns, but Twitter assured users it will "bring this new ad placement to other campaign objectives."
Don't fold your chair yet… NewFronts lasts for two more days, which means there will be more ad announcements coming soon. We'll keep you posted!
Tech giants are now offering marketing certifications
May is the month of Justin Bieber memes, moms, graduations…
And apparently, marketing certifications.
Google just launched a "rigorous" certification program that teaches you the fundamentals of e-commerce digital marketing.
It even gives you hands-on experience in popular tools like Canva and Shopify.
Microsoft relaunched its Learning Lab, which grants "official" certificates and offers badges for LinkedIn, Twitter, and Facebook.
And Amazon launched a partner program that includes "learning certifications" for employees, among other features.
So if you want to take your career to the next level, you have plenty of "schools" to choose from.
If only these certifications came with graduation parties…
How to reduce ad spend with "dayparting"
If you're like most marketers today, you rely almost entirely on algorithms.
But like they say: Timing is everything.
That's why radio and TV advertisers have served their messages at specific times of the day for years in a practice known as "dayparting."
In this article, Meg Berry shows you how and when dayparting can save your advertising budget, along with a simple system for optimizing your campaigns based on time ranges.
Three quick caveats:
First, dayparting is not for everybody. E-commerce vendors, for example, might not find dayparting useful because people buy at every time of the day.
But if you're a B2B company, you might want to target times of the day when your audience is in the office. Especially if you're trying to generate calls.
Second, you need traffic. Most businesses don't have enough conversion data per day, or per hour, to run statistically significant tests.
Finally, dayparting can still drive up costs: The more targeted your campaign, the less room for optimization the algorithm has, so your costs go up.
And now, with the caveats out of the way…
Here's a tactic you can apply to see if dayparting works for you:
Download performance by the hour of the day (or by day of the week) into a spreadsheet.
Identify the range of times where most of your campaign conversions seem to happen.
Put that data in a pivot table.
Move the high-converting hours into one group; put the other hours into a separate group.
You'll probably see that one-time range drives most of the conversions at a lower cost per acquisition (CPA), while the other time ranges have fewer conversions and a higher CPA.
You know what to do next: Focus on the time frames that generate conversions at a lower CPA, and reduce the ad spend on expensive time blocks.
Meg also shows how to do this in Google or Facebook's advertising dashboards too.
Try it out and see if dayparting works for your business.
Tips for crafting pricing tiers that boost your sales
How do you select pricing that maximizes the money you make from your products?
It's surprising how many businesses do it by taking a wild shot in the dark.
We can't cover all the principles, but here are a few ways to do it:
Add a free pricing tier. It's common to sell a product with multiple pricing tiers, with the higher prices expanding on benefits or quantity. If this is you, try adding a free pricing tier to get people through the door. While you may have to eat the costs at first, it often pays off long-term.
Get rid of any confusing prices. We noticed brands using confusing pricing and extra fees. To boost your conversions, offer customers a flat-rate price they can understand in seconds. Don't build complex plans or tack on extra fees at checkout.
Use a research-backed approach. Run one survey of your target market asking how much they'd pay, and another survey with fixed pricing options. Then, take the price each person in the open-ended survey said they would pay, subtract the average price of the open-ended group, and add the average price of the closed-ended group. You can read more about how this works at Ariyh here.
There are thousands of ways to think about pricing.
But hopefully the tips above help you optimize your pricing strategy so you can maximize revenue in the months to come.
Like me, you probably need a primer on web3.
If, like me, you've been pretending — and failing — to understand what this web3 thing is, we're going to be better off once we read this report.
Let's break it down:
Current web ownership is a bunch of companies that control user attention and revenue. There is an opportunity to change— and a whole economy that goes with it.
The operating principle of web3 is that "next-generation networks will grow bigger, faster because they are owned and operated by users."
This is often called the ownership economy, "with products and services that turn users into owners."
Software is moving from being user-generated to user-owned.
"There are now more than 15,000 projects in the ownership economy, from user-owned financial markets to user-owned social networks, investment clubs, and digital assets."
Ownership is a variable beast. It depends on "user effort, responsibility and degree of collectivity".
This ownership economy is big — really big. As of last week, the market cap for over 19,000 tokens is about $1.7 trillion. There are an estimated 360,000 NFT owners — as of last year. Monthly active users for various wallets goes into the millions.
We're not talking 'product' any longer — it's "token distribution design", thank you very much, and these are boosting user engagement and loyalty.
It's a real economy, not a business or a trend. "Today, user ownership is transforming how people transact, invest, create, build, play, learn, communicate, and socialize", much like other economic models.
This isn't some magical biz bot, and the solid old principles around market economics still prevail — your business has a better shot at viability if you solve a user problem. The big unsurprising reveal? "Tokens aren't a replacement for product-market fit. Tokens can be useful in capturing user attention and bootstrapping initial adoption, but they need to be coupled with strong product-market fit—solving a widespread need for users—in order to sustain usage."
"Every song is a world", says a.live.
The incredibly cool Prarthana Sen of a.live, an early stage music + tech startup out of India, subscribed to our newsletters last week, and I wrote to her to ask about how the music biz was doing with web3. "We believe a.live is the music format for the future, rather than just another metaverse experience." I had a play with the platform, and it's strange and beautiful and… unexpected. I'm not used to using the web in this way, which might be a feature — and a bug. Why does the website hijack my pointer? Why do I have to fly around while listening? Where am I supposed to go? Is music really meant to be an interactive experience, or is it more a lean-back thing while I do other things? Prarthana said that "With this new portal and its gamified interface, we're looking to make music a lean-forward experience and get fans excited around things like a virtual launch party for a new song and so on. At the core, we're a bunch of musicians and music nerds who thought it would be great to develop a new way of experiencing it!" She has a great point when she says that "the last fundamentally new way of consuming music was 40 years ago, when MTV created a new visual language to accompany music, aka the music video. Think of a.live as MTV reimagined for the metaverse. Every song is a world – a fully immersive, interactive space where fans can go behind the scenes, remix music on the fly and be part of the music of their favourite artists in a way never possible before." She also said I could claim NFTs in there ("free for the first 50k users") but I couldn't find how to do that. Check out the experience here — I'm so excited to see where it goes.
Here they go again: Quartz sold to G/O Media for under $10 million.
G/O Media was formerly known as Gizmodo Media Group. Quartz CEO Zach Seward will now become editor in chief and general manager of Quartz. He said that the deal "will provide more resources for our most strapped teams at Quartz and more opportunities for career growth across the new company", and that there will be no layoffs connected to the sale.
So what's going on with that FT Edit app?
Edit launched last month and gives subscribers access to eight in-depth articles five days a week for under a pound a month. Reuters Institute spoke to its editor Malcolm Moore. It's hard for news orgs to launch successful apps, so this was an interesting listen for me. "Ninety percent of the apps market is games, and of the ten percent that isn't games, only two percent of that ten percent is news and in that two percent you have people like Twitter and Reddit so yeah it's a tough place to be." One ambitious but solid objective: what editorial products would it take to convert 26 million people who follow FT on social into subscribers?
If you want to be a data journalist, do you need to know how to code?
Simona Bisiani talks us through the arguments — and different ways to compile, clean, visualise, and publish your data.
What's the best font for online reading?
"People read 11% slower for every 20 years they age." I find the relationship between fonts and reading speed pretty exciting, especially in this study. My spiritual fave Garamond won the award for highest reading speed but "Garamond was only best on average. It wasn't best for all users. There were substantial individual differences."
Google's Media CDN is a content delivery platform that means you can stream your own content using the same infrastructure as YouTube's.
And this might be the big deal: you can monetise by running ads.
LinkedIn is growing its creator management team — they want a healthcare creator manager.
They want the person to not only "develop and execute a strategy for identifying (both on- and off-platform), onboarding and supporting health care creators" but they also see this person as an "evangelist for creators". Sounds like exciting work.
BintanGO just raised $2.1 million in seed funding.
These folks are an Indonesian startup that matches creators with brands. And, like Cameo, their app enables fans to buy video shout-outs from creators. Last month, they onboarded about 10,000 creators, who have collectively earned almost $150,000 on the platform in the past three months.
Are streaming ads the next big thing?
Your ads might start appearing between Netflix binges soon…
Streaming ad revenue is expected to grow 26% in 2022 after hitting a 21% spike last year.
According to the same report, "it's the perfect time for brands and buyers to follow consumer attention," which has shifted to video streaming channels.
Why we care: This new ad landscape keeps getting friendlier to advertisers, opening up a ton of placement opportunities.
Hulu, HBO Max, and Paramount+ already introduced ad-supported plans, Disney+ is testing them, while Netflix is considering the idea, after a disappointing Q1.
And if you want to produce eye-catching ads for the new format, Meta just published a video ads guide that might help.
UGC is not a trend. It's a must!
No, that's not a slogan. It's data talking.
If you read our TikTok Deep Dive, you know that user generated content (UGC) accounts for 39% of the weekly media hours consumed by Americans.
More specifically, Americans 13+ spent 18% of their weekly media hours "watching traditional TV content" compared to 16% of the time consuming UGC videos.
So while UGC content hasn't replaced the traditional content created by companies, there is a real trend here: Users are looking for UGC.
And being the smart marketer you are—and if you're reading this newsletter, we assume that's what you are—you want to bait the hook according to your audience's preferences.
Which means… It's time to start creating UGC content.
There's another benefit to all this, too:
People trust UGC content more. It's literally social proof. So, creating this kind of content will likely help you get higher conversions.
And last, but not least… Look at TikTok. This social media platform is taking over the planet. Their domain gets more visits than Google. It's the most-visited domain in the world!
TikTok is UGC consumption at its finest. Users don't like ads, which means UGC is the only way to sell.
How this entrepreneur used an influencer strategy to grow his app to $10k in MRR in just 3 months
So you've got an app, but the app store traffic is not reliable. What can you do?
Influencer marketing might be a good solution.
Why?
As Noah Tucker explains in this thread:
It's a cheaper acquisition strategy than other methods.
A few apps are already using influencers.
The number of influencers on TikTok, Twitter, and YouTube is growing. A lot.
Here are just three things you need to leverage an influencer strategy…
Deal structure. You can structure your deals in a few different ways:
Revenue share partnerships. This comes with no upfront investment, but it reduces the quality of the influencers you'll attract.
Pay a flat fee to post.
Incremental based on performance. This is a mix of the previous ones. You pay the influencers a flat fee to post. Plus, you add additional bonuses based on performance milestones.
The platform. This will depend on your ideal customer profile. But, according to Noah Tucker's experience, different platforms are better for different goals:
TikTok: Mostly for awareness.
Twitter: Mostly for awareness.
YouTube: Mostly for conversions.
Communities (Discord groups, Facebook Groups, courses): Conversions.
Content strategy. Again, this depends on the platform.
For YouTube, Noah Tucker uses three different angles: App reviews, solution to problem, and case study.
TikTok: The goal here is to stop the users from scrolling. You can do this by showing impressive numbers, or by leading with a unique value proposition.
@renelacad

How you can make money online by selling digital products
Twitter: Make tweets that deliver value and incorporate your tool.
Communities: This depends on the community, but one strategy that Noah suggests is to create a guest video module for their course. You can reinforce this strategy by being a guest on community live calls or podcasts.
It's a long but useful thread, so read the full thing if you want to learn more ways to leverage influencers for your app.
Welp, here it is:

My exact A-Z influencer marketing strategy for Shopify apps.

What I did to grow Social Snowball to $10,000 MRR in 3 months

This is by far the most detailed and actionable thread I've ever written. Let's dive in👇 pic.twitter.com/GqnSTCz45j

— Noah Tucker ☃️ (@noatuck) April 11, 2022
How to write a pricing page that actually sells
Most web pages are fairly straightforward.
Your home page sells the dream. Your product pages share details, features, and benefits. Your about page connects people with what you're doing on an emotional level.
And the pricing page shows prices, right? Well, yes, but it should do more than that.
Pricing pages are where you prove your value and address customer objections head on… And they can have a big impact on your conversions.
Because whenever you bring up money, customers are going to have… well, reservations.
Here are some tips for writing pricing pages based on what you're selling:
If you want someone to book a demo… This mostly applies to high-ticket SaaS products. Here, your only goal is to remove obstacles that prevent someone from scheduling time with you. This means letting the customer know that they won't get bamboozled by tricky pricing. Words like "No tricks," "One flat fee," and "No strings attached" work well.
If you want someone to sign up for a subscription… You're probably offering a free trial. And if you are, you need to clear up the biggest worry people have: that they'll accidentally buy something. Phrases like "No credit card required" or "Sign up for $0" are effective here.
If you want someone to make a one-time purchase… This means your product page likely also doubles as your pricing page. In this case, double down hard on benefits and sell outcomes to your potential customer. Competitor pricing comparisons are useful, too.
Here are some real-life examples of the above:
Book a demo: Remote emphasizes no tricky plans or hidden fees.
Subscription: Athletic Greens focuses on no commitment for subscriptions.
One-time purchase: Huckberry is a product page masterclass.
That's it. Get out there and get selling!
Got an idea for an emoji? Submit it!
Ever wished there was an emoji for that?
You'll be happy to know that you have a chance to make it happen.
Unicode is taking emoji ideas until the end of July.
And if you don't mind a ton of paperwork, and your emoji is original or practical enough, it could end up in messages and on social media posts across the web.
Pro tip: Before you make a submission, check Emojipedia, because your suggestion might already exist.
The Crew actually has its own private collection of Slack channel emojis already.
Maybe we'll submit one or two and see if they make the cut…
Amazon e-commerce sales are slowing down
Are consumers spending less money online?
Because looking at Amazon's Q1 report, there's definitely a downtrend.
What's going on: The online giant recorded its slowest growth in two decades, with advertising revenue missing expectations by almost half a billion dollars.
Amazon is the latest tech giant to see a decline in ad revenue, just days after Meta and Twitter announced similar declines.
Unplugging: The biggest reason might simply be the return to life "offline." Physical store sales rose 17% since last quarter.
Moreover, the rise of Airbnb downloads indicates that people are eager to travel and enjoy more in-person experiences.
Why we care: If your e-commerce sales are slowing down, it's not just you. It's happening almost everywhere. But knowing these trends will help you adjust your marketing strategy and put your ad dollars where they'll get the biggest returns.
Now's a good time to find ways to improve customer experience, or maybe try channels that are working for marketers.
Speaking of what's working…
This social media platform is poised to own 20% of market share… Are you using it yet?
Q1 may have dampened the mood for most social media advertising platforms, but there's one platform that hasn't stopped dancing…
Yep, TikTok.
By the end of 2022, TikTok's ad revenue is expected to triple, and they're also projected to own 20% of social media market share.
Making out like a bandit: With TikTok close to topping Snapchat and Twitter's ad revenue combined, it's possible the platform is stealing attention and revenue from its competitors.
Why we care: Marketers are shuffling profitable channels into their stack, and TikTok is definitely one of them.
In addition to TikTok, there are other platforms that are working, too… Like iOS app install ads.
Why subtle improvements in user experience can make a half-a-trillion dollar difference
Why did TikTok take over the world, while Vine, a similar app that launched years before, failed?
Similarly, why did Tinder spread like wildfire… but Match didn't?
According to David King and Mishti Sharma, it's because of the "Boneyard Principle": The small improvements to failed or imperfect ideas.
Or, in the cases of TikTok and Tinder, the small tweaks to user experience (UX) details that made the winning apps easier and more pleasant to use.
Take a look at the subtle differences between the UXs of TikTok and Vine:
Video consumption:
When you opened Vine for the first time, you had to go through five steps before you could watch your first video.
With TikTok, you just open the app and start consuming videos—even if you don't have an account.
Using the app:
Vine divided their interface into Home and Exploring. In the Exploring section, though, they asked users what type of content they wanted to see: "Editor's Picks," "Popular Now," or "All Posts." When you're a new user, how do you know what those things mean?
By contrast, TikTok serves you relevant videos based on what you watch and engage with. No decision-making. Just entertainment.
Long story short, making the lives of your users easier can literally make you millions, even trillions, of dollars.
Sometimes, instead of coming up with a new and fresh idea, you find the most lucrative opportunities by improving the bad ones.
David and Mishti explore this principle in more depth in their post. Definitely worth reading in full, if you have time.
How to work well as a team, asynchronously
Is your team working remotely?
We've been a fully-remote team since we founded the newsletter.
And there's an important aspect of working remotely that we've learned to leverage well: Asynchronous, or "async" communication.
Basically, async communication is the kind that doesn't require your team to be online at the same time. It's necessary if you want to have a great remote team.
Here's how we approach async work:
Default to never having meetings. Most people's default is to book a quick meeting. If you want to work async, make it the default to never have meetings. Only schedule them if you've tried through other channels or have a complex topic that would be better discussed in person.
Try a fully-async week. If your team is having struggles, have a week where meetings are banned. You'll find that it's easier to work around this than you might think.
Try to hire good writers. Most async communication happens in written form, so it's crucial that you hire people who can write well. And if they can't, it's important that you teach them how.
Understand that some communication still needs to happen in real-time (or close to it). Fully-async work is unrealistic for most teams. For example, we still communicate in near-real time when we're in the final stages of building and sending the newsletter. Some things are time-sensitive.
One size doesn't fit all, of course. What works for us might not work for you. But we wanted to share our candid thoughts on working async.
If you've got any thoughts on a good remote workflow, share them with us by replying to this email. We'd love to hear from you.