If you're starting the year with a "new year, new me" motto, it might be smart to transmit that same positive energy to your LinkedIn profile.
Get that nailed down, and you can boost your visibility. Plus, you'll increase your chances of standing out as a valuable connection and staying in users' minds.
Luckily, the LinkedIn team scouted the platform and selected a few stand out profiles that might inspire your profile makeover.
Here are a few things you could do…
First, give your headline some tender loving care. Your headline shouldn't be fixed because new people will land on your profile daily.
Review, tweak, and adjust your headline over time. For instance, insert more than one job title and be descriptive about what you do, as this is something every profile visitor will see.
Also, keep in mind that the more words you cram into your headline, the more difficult it will be to read. Use separators and special characters (e.g. vertical lines) to make it readable.
Here are some great headline examples:

Second, craft a compelling summary that reflects your goals and causes. The LinkedIn audience is equally interested in the how and the why of your professional growth.
Turn your About section into your elevator pitch, and use it to communicate your career goals. Tell your story and share turning points that propelled your growth.
It's crucial that you strike a conversational tone that will "draw the reader in" and include more than just buzzwords. "Strategist" and "expert" don't mean much if you can't back it up.
Need another example? LinkedIn lists this profile's About section.

Third, turn profile visits into a discovery experience by adding featured items and professional social proof.
LinkedIn allows you to insert outbound links to your work. Use them to feature keynote events, articles, interviews, and anything that cements your place as a person of authority.
Don't forget to add your best work to the list as well. All this can give an idea to potential partners about your industry expertise, like the featured section on this profile.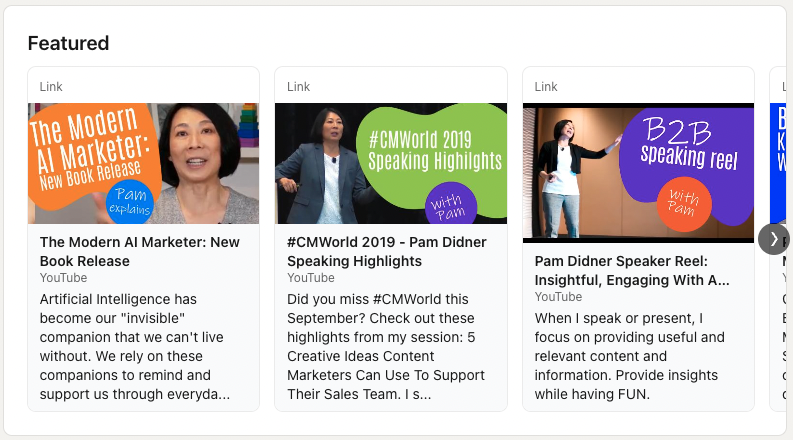 That's it! There are more examples of great profiles in the original article. You may be surprised how little tweaks can make your profile more appealing and memorable in 2023.
Good luck!